Ex Presidential candidate, Tan Kin Lian, recently shared an image of him on his Facebook page holding up two ART kits which have double lines on them.
The 'masked up' him added that no one dared to sit next to him on the bus and he did not book Grab to go to the clinic because they will probably reject.
Here is his post
'I took the bus to a clinic. Nobody dared to sit next to me.
I did not call Grab because the driver will also reject.'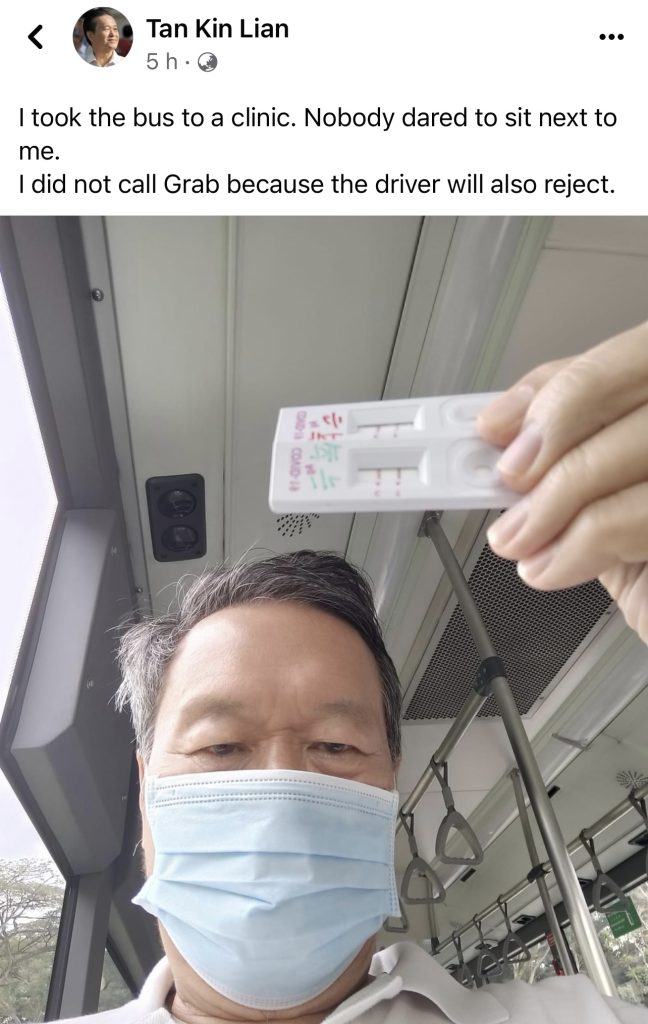 Here are what netizens think
Wah! First time? Share license plate for bus leh… I wanna buy 4D…
Take care, Mr Tan. Wish you a speedy recovery.
Bus can infect more people compared to calling cab or Grab
I thot got infected can only take cab, to and fro. Don't have to inform driver just keep the mask on throughout the journey. I remember grab used to have drivers to send infected patients previously, no more now I think.
At night remember to drink stout. It clears ur system uncle.
You need to put your test kit into a zip log bag. Not held it up on a bus.
Wth did u even TRY to call a grab/ taxi? Did they reject u or did u assume? What about using tele medicine services?? Is going out in public during the first 7 days of being positive even legal?
Image source: Tan Kin Lian/Facebook