CONTROLLED DISPOSAL OF WAR RELIC FOUND AT A CONSTRUCTION SITE ALONG UPPER BUKIT TIMAH ROAD
On 20 September 2023 at 11.57am, the Police were informed of a war relic discovered at a construction site along Upper Bukit Timah Road during excavation works.
The Singapore Armed Forces (SAF) Explosive Ordnance Disposal (EOD) team has determined that the war relic is a 100kg World War II aerial bomb and assessed that it is unsafe to move it. Therefore, the war relic must be disposed on-site.
The SAF EOD team will carry out an on-site controlled disposal of the war relic on 26 September 2023 between 8 am and 7pm. For the safety of the public, the Police will effect a 200-metres cordon around the war relic during this period and road closure will also be imposed at the vicinity from 11 am. The public will be alerted when roads are re-opened and it is safe to resume normal activities in the area.
The Police have engaged affected residents and other stakeholders from The Linear, Hazel Park, Bukit 828, Block 154 Gangsa Road, Hazel Park Terrace and shophouses along Upper Bukit Timah Road, as well as the management of Greenridge Secondary School. They will have to temporarily vacate their buildings during the controlled disposal operation. To ensure the safety of all staff and students in the school, Greenridge Secondary School will move to Home-Based Learning on 26 September 2023.
Loud sounds can be expected during the controlled disposal of the war relic. The public is advised not to be alarmed and to avoid the area.
Affected residents who did not attend the townhall and did not receive the written advisory may contact Bukit Panjang Neighbourhood Police Centre at 1800-892-0000 for further enquiries.
Road Closures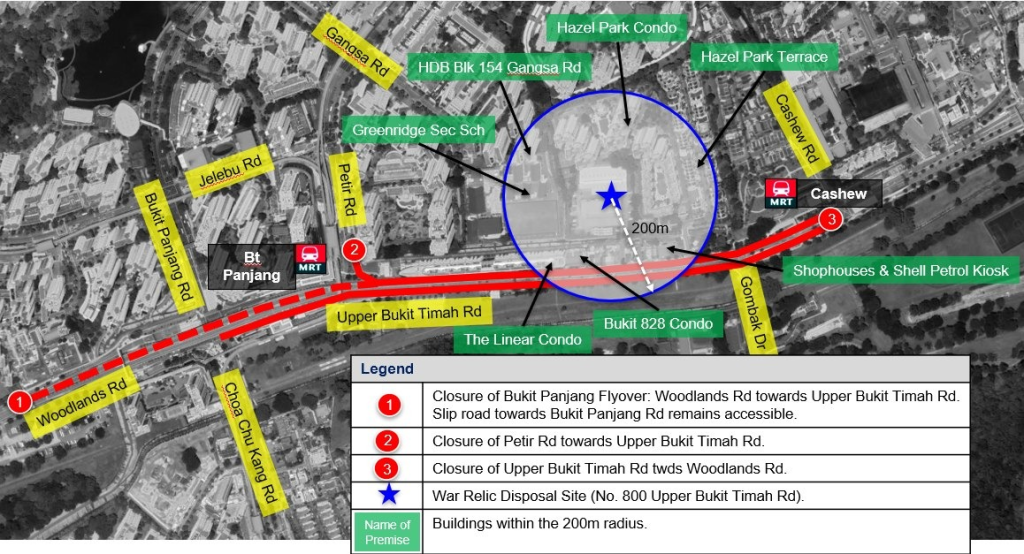 To facilitate the operation, Bukit Panjang Flyover (between Woodlands Road and Petir Road) and Upper Bukit Timah Road (between Petir Road and Cashew Road) will be closed to vehicular traffic from 11 am to 7 pm on 26 September 2023. Please do not enter the demarcated areas shown in the map during this period. The Police will provide an update via SPF Facebook and X (Formerly Twitter) once the affected roads are reopened.
During the road closures, access will only be granted to Police, SAF, emergency and authorised vehicles. Traffic Police officers will be deployed along the affected roads to assist and redirect motorists.
Parking restrictions will be strictly enforced. Vehicles found parking indiscriminately or causing obstruction may also be towed.
Drone activities are prohibited in the area of the disposal operation.
The Police are working closely with the relevant authorities and the SAF EOD officers to ensure that the controlled disposal of the war relic will be carried out safely. Members of the public should cooperate with police officers deployed on the ground.
Image Source: Singapore Police Force