According to local Indonesian media reports, in a football league held in Malang, East Java, Indonesia, on the evening of the 1st of October, fans of the two teams clashed violently after the game. 
After the Arema team lost 2-3 to Persebaya, thousands of Arema fans jumped over the railing and rushed into the stadium causing quarrels and fights. The Persebaya players quickly left the pitch, but several Arema players still on the pitch were attacked.
Riot police rushed in to stop the riot, firing tear gas into the crowd, A stampede occurred after police used tear gas to stop the unrest.
According to the latest data released by the Indonesian National Human Rights Commission, the death toll has risen to 153, including two police officers. 
He said that the tear gas caused panic among the fans at the scene, and hundreds of people ran to the exit at the same time, causing some people to suffocate to death in the chaos, and others to stampede.
The East Java provincial police chief has said the death toll is likely to continue to rise as the condition of many of the 180 wounded being treated in hospitals is deteriorating. In this regard, the British media Reuters said "this seems to be one of the worst stadium disasters in the world (in recent years)."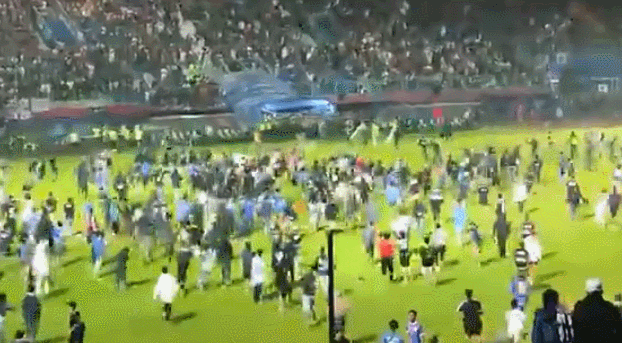 On the 2nd, Indonesian President Joko Widodo expressed his condolences to the victims of the clashes between fans in Malang, East Java, and ordered the suspension of all league games. 
Indonesia's youth and sports minister also said that the authorities will re-evaluate safety-related issues at football matches, or ban fans from watching the matches.
Full Video Loading…