Muhammad Irfan Danyal bin Mohamad Nor (Irfan), an 18-year-old post-secondary student, was detained in December 2022 under the Internal Security Act (ISA). 
Irfan was self-radicalised by online propaganda by the terrorist group Islamic State in Iraq and Syria (ISIS), and had made plans and preparations to undertake armed violence in Singapore and overseas, in support of ISIS.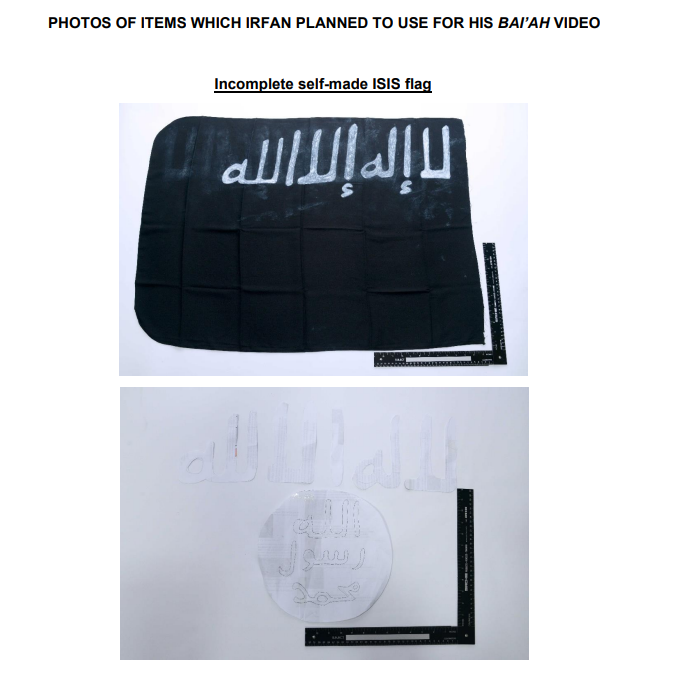 Irfan started down the path of radicalisation in 2020 after he came across YouTube videos by foreign extremist preacher Zakir Naik (Naik).
After watching many of Naik's videos available online, Irfan went on to watch YouTube videos of other foreign extremist preachers such as Ahmed Deedat.[2]   He also participated in discussions on social media platforms, where he was exposed to ISIS propaganda.  Over time, Irfan developed an interest in ISIS and admiration for the mujahideen (fighters) featured in jihadist videos.  By late 2021, he started taking photos of himself in a ski mask, with his index finger raised to represent tawhid,[3]  to mimic the ISIS fighters he had seen online
Wanted to attack targets in Singapore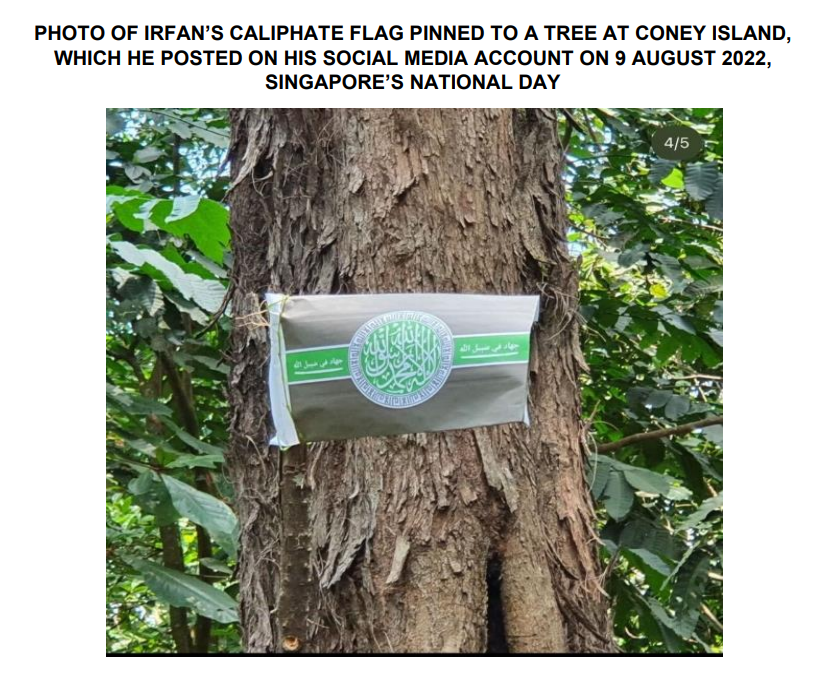 On 9 August 2022, Irfan planted a self-made flag in Coney Island, which he designed based on the flag of the Al-Qaeda-linked terrorist organisation in Syria, Hayat Tahrir al-Sham.
 Irfan formulated at least three attack plans against targets in Singapore, which he intended to execute with the support of his ISIS army. 
He had no timeline for these attacks at the point of his arrest. 
First, he planned to stab and kill "disbelievers" by ambushing them in dark alleys, and taking their personal belongings as war spoils for his ISIS army.
In his view, "disbelievers" included non-Muslims, Shia Muslims and Sufi Muslims.  In preparation for the attack, he purchased a knife from a convenience store in August 2022.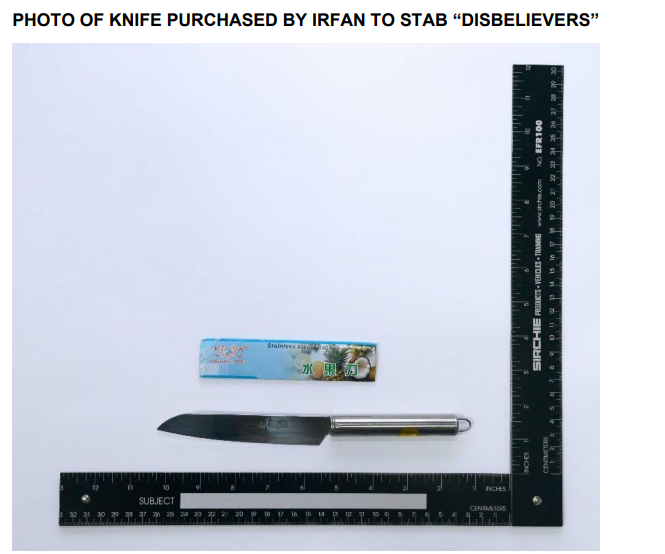 Second, Irfan also had aspirational plans to carry out a mass-casualty attack against the Amoy Quee Camp, where the NCC Headquarters is located. 
He was familiar with the camp from his time as an NCC cadet in secondary school.  Inspired by ISIS car bomb videos he had watched online, Irfan wanted to recruit a suicide bomber who would mount a suicide car bombing at the gate of Amoy Quee Camp.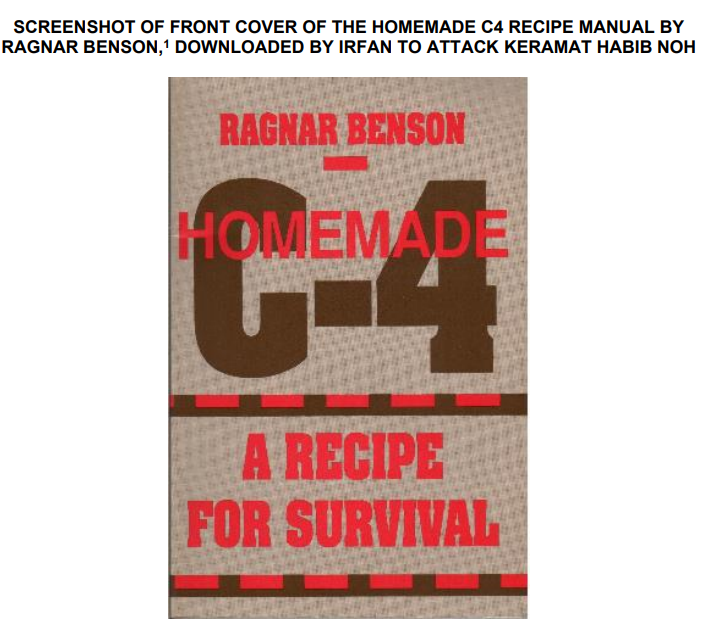 Thereafter, Irfan intended to lead his ISIS army to attack the remaining guards at the gate using simple weapons like axes and knives, and steal the firearms from the guardhouse in the camp.
Third, Irfan considered a bomb attack on Keramat Habib Noh at Haji Muhammad Salleh Mosque, as he believed that the gravesite, which was decorated and not at ground level, was "un-Islamic".  He downloaded a C4 bomb-making manual online, intending to construct a homemade explosive to flatten the grave (see Annex E).  At the time of his arrest by ISD, Irfan's attack plans against Amoy Quee Camp and Keramat Habib Noh had not progressed beyond the ideation stage.
Image Source: ISA