A man was killed after being hit in a fatal car accident by a Malaysia-registered car along Jurong West on Tuesday earlier this week.
The accident took place on 21 March at about 9.20 am along Jurong West Street 65, and the deceased, 47-year-old Keow Chan Liang, was sent to the National University Hospital conscious before he succumbed to his injuries and died 2 days later on 23 March.
The driver of the white Toyota Vellfire is currently assisting the police with their investigations.
Speculation on accident
Following the virality of the video of the accident, social media users criticised the deceased for allegedly not paying attention to the traffic and assumed that he was likely to be on his phone at the time.
This is because in the video of the accident, the deceased didn't appear to be aware that the Toyota Vellfire was approaching him at the time.
Other netizens deduced that the driver was using his phone instead when the accident happened, while some blamed the deceased for jaywalking.
Niece reveals he's partially blind
Taking to the comments section, the deceased's niece commented that her uncle was partially blind and relies on counting the number of steps needed to go to work.
She said (SIC): "halo everyone, he is my uncle ,is a semi-blind person who usually relies on the number of steps to go to work. Due to road construction, the road he usually walks is closed. He has no choice but to walk an unfamiliar road to work. No one thought that such a thing would happen. . Please be merciful"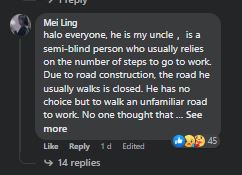 Didn't have his cane with him because of familiar route
Speaking to The Straits Times, the deceased's 46-year-old wife, Kelly Wong, said that her husband was on his way to work and was heading towards a bus stop nearby at the time.
She said that Keow would sometimes carry a cane with him because of his poor eyesight whenever he was walking in unfamiliar places or at night, but on the day of the accident, he didn't have his cane with him because he was familiar with the route that he was liking along.
She described him as being a hardworking husband and a filial son who wanted to provide for his family despite his partial loss of sight and was in good health working as a masseur at a massage parlour in Clementi.
Wong shared that after Keow was sent to the hospital following the accident, the doctors told her that he had suffered too much damage to his head and surgery wouldn't help because the injury was too extensive.
She said that she was in disbelief and broke down immediately, and managed to visit him one last time before he succumbed to his injuries and passed away.
Keow leaves behind his wife, a 78-year-old mother and a 12-year-old daughter.