The Police have arrested three men and a woman, aged between 34 and 46, for their suspected involvement in a series of bank phishing scams targeting bank customers.
In August 2022, the Police received several reports of bank phishing scams targeting bank customers. In this latest variant, the victims received unsolicited SMSes stating that their bank accounts had been suspended temporarily and they were advised to reactivate their accounts by clicking an embedded URL link.
Upon clicking on the link in the SMS received, the victims were directed to a spoofed Internet banking log-in page, where they keyed in their credit card details and One-Time Passwords (OTPs), which were received on their mobile phones.
Victims later realised that they had been scammed when they discovered unauthorised transactions made from their bank accounts.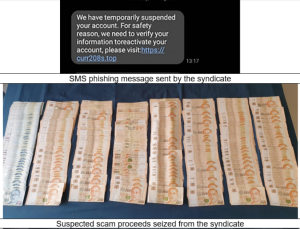 Between 18 and 19 August 2022, officers from the Police Intelligence Department and Commercial Affairs Department mounted an island-wide operation and arrested three men and one woman suspected to be part of a transnational syndicate perpetrating bank phishing scams in Singapore.
Preliminary investigations revealed that the four persons were allegedly involved in sending mass SMS messages to more than 100 random phone users in Singapore to deceive victims to provide their credit card details via spoofed bank websites. The fraudulently obtained credit card details were then used to make fraudulent purchases. One victim had fallen prey to this scam variant, suffering a total loss of about $940.
These four individuals are believed to be working with overseas syndicate members and were planning to perpetrate more similar phishing scams in Singapore.
The three men and one woman will be charged in Court 4A on 20 August 2022 with the offence of abetment by conspiracy to access a computer with intent to commit an offence under Section 4(3) read with Section 12 of the Computer Misuse Act 1993.
The offence carries a fine not exceeding $50,000, imprisonment for a term not exceeding 10 years, or both.