In the digital age, where opportunities are just a click away, it's essential to be vigilant and cautious when seeking employment online.
Recent reports have revealed a startling trend – online job scams. Since January, over 6,600 individuals have fallen victim to these scams in Singapore, resulting in losses totaling a staggering $96.8 million.
The Alluring Trap
Online job scammers are cunning in their approach. They begin by enticing victims with the promise of easy money, offering them commissions for completing seemingly simple surveys. These initial tasks create a sense of trust and legitimacy.
Victims often receive unsolicited messages on popular platforms like WhatsApp or Telegram, urging them to participate in surveys or questionnaire-based activities. Some may even be asked to enhance Instagram posts by liking them. The promise of quick earnings motivates many to participate.
Once victims complete these initial tasks, they receive a small commission, further luring them into the scam. At this point, the scammers reveal their true intentions.
The "More Rewarding Tasks"
Scammers invite victims to join exclusive WhatsApp or Telegram groups, promising more rewarding assignments. These tasks typically involve activities such as boosting the value of cryptocurrencies or writing reviews for online merchants.
To perform these tasks, victims are instructed to create accounts on fraudulent websites and transfer money to bank accounts provided by the scammers.
The Advance Payment
In some cases, scammers take their deception a step further by instructing victims to make substantial advance payments for various reasons. This could be framed as a necessary fee or a deposit to unlock higher-paying tasks. Unsuspecting victims, eager for quick profits, often comply.
The harsh reality dawns on victims when they attempt to withdraw their hard-earned commissions, only to discover that it's impossible. Contacting the scammers becomes increasingly difficult, and the victims finally realize they have been scammed.
Who Are the Victims?
Statistics from the police reveal that more than half of the scam victims are young adults aged between 20 and 39. Job scams are particularly prevalent among this demographic, making it crucial for young job seekers to exercise caution.
The prevalence of online job scams in Singapore is on the rise. The first half of 2023 saw more reported cases compared to the same period in the previous year. This alarming trend highlights the need for increased awareness and vigilance among internet users.
Taking Precautions
To protect yourself from falling victim to these online job scams, consider the following precautions:
1. Download ScamShield
The Singaporean police recommend downloading the ScamShield app, which helps identify and block scam messages and calls.
2. Enhance Security
Set up robust security measures, such as two-factor authentication, for important accounts, including your bank, social media, and Singpass accounts. This adds an extra layer of protection.
3. Exercise Caution
Be wary of job offers that promise high returns for minimal effort. If it sounds too good to be true, it probably is.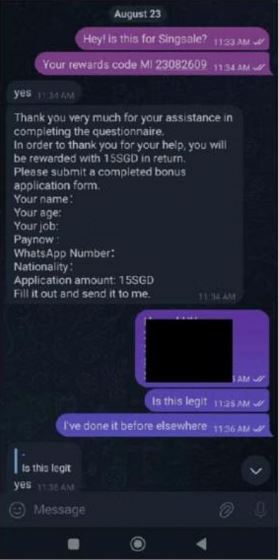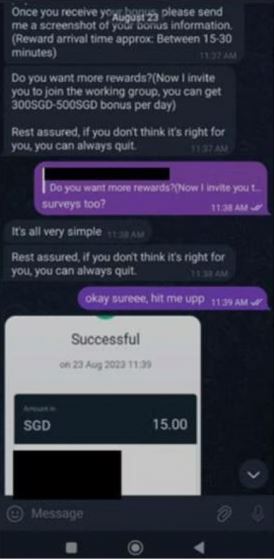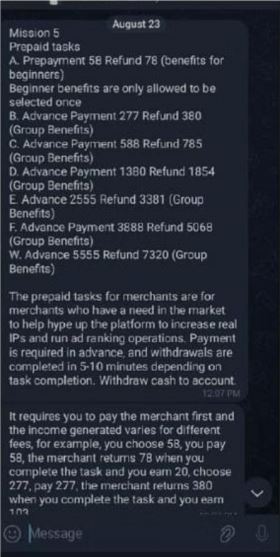 Source: Singapore Police Force