A routine lunch outing turned into a distressing encounter for one individual at the Bukit Timah Market & Food Centre.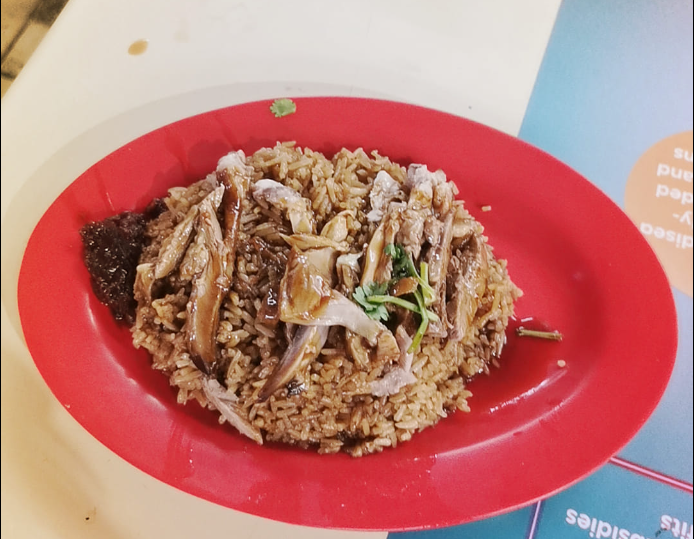 The incident unfolded at unit #02-129, where Seah Family Braised Duck Rice operates. What should have been a satisfying meal took a shocking turn when the diner discovered a cockroach nestled in their plate halfway through their meal. The unsettling discovery has not only raised concerns about hygiene standards but also sparked a conversation about accountability in the food industry.
The diner, having ordered duck rice from Seah Family Braised Duck Rice, was enjoying their meal when the unexpected sight of a cockroach disrupted their experience. The shock and disgust that followed were palpable, leaving the individual with a mixture of emotions ranging from disbelief to disappointment.
In light of the distressing discovery, the diner rightfully expressed their concerns to the store owner. However, their attempts to seek resolution were met with resistance. The store owner reportedly refuted the claims, citing the longevity of their business as a justification. The assertion that being in the food industry for over 30 years equates to hygiene and quality assurance is a stance that understandably left the diner dissatisfied.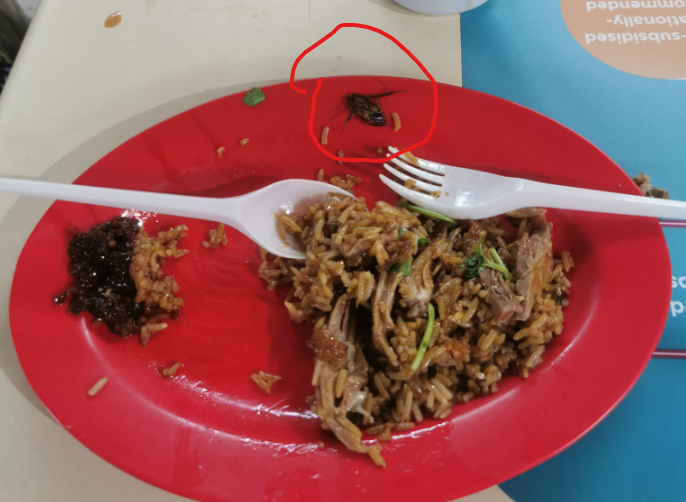 Here is what the unfortunate diner said:
I was having my lunch at Bukit Timah Market & Food Centre. Ordered duck rice from Seah Family Braised Duck Rice store at unit #02-129. After eating halfway through, I found a cockroach in my food! I was utterly shocked and complained to the store owner, but they refute my claims giving the excuse that they are in this business for 30 years already. Having been in the business for so long is no excuse for being unhygenic!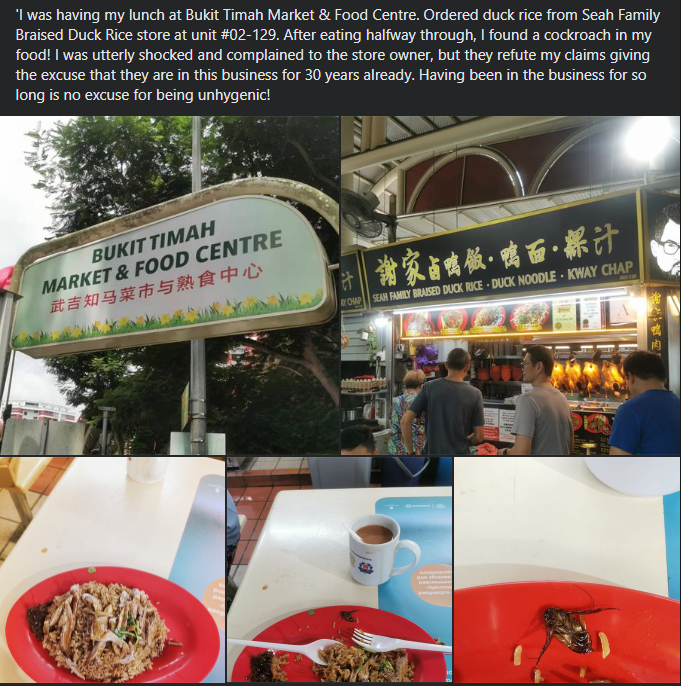 Here are what netizens think:.
Please report this to NEA. Call them then send them proof image. They will investigate and give them warning notice. Because hygiene and cleanliness very important. If you don't do that and let it go, they will still not do anything about it. Same mistakes will happen over and over again.
My advice is direct to nea or sfa. Dont tell the shop. Cos the shop will clean the area before officer come. If u direct to nea… they will do suprise visit.. so not time to clean..
Typical 30yrs of business even worst of handling hygenic …. agreed write to NEA , else they use 30 yrs to show off…don't play play