With effect from 1 April onwards, entry fees into Sentosa will no longer be waived and depending on the mode of transport into the island, fees could go up to $6.
The standard entry fee for entry into the island resort will be $4, while entry for selected TransitLink concession card holders will be $2.
Cars and taxis entering the island will cost up to $6 depending on the time of entry:
Entry between 7am to 12pm will be $6, entry between 12pm to 2pm will be $2, entry between 2pm to 5pm will be $6 and entry between 5pm to 7pm will be $2.
However, visitors can still enter the island for free if they walk or cycle in via the Sentosa Boardwalk, or they can take SBS Bus Service 123 into the island and only be charged for the distance-based bus fare.
Sentosa's previous statement on fee waiver
Good news! The island admission fees will be waived until 31 March 2023!
Sentosa's island admission fees have been waived since March 2020 to encourage more locals to visit the island with their families and loved ones. This was a temporary measure to support local businesses in view of the COVID-19 pandemic.
As Singapore moves towards living with COVID-19, this temporary waiver of island admission will lapse, and our island admission fees will be reinstated. The island admission fees that will apply from 1 April 2023 are unchanged from the fees that were applied pre-COVID-19
Fees from April onwards
Sentosa Express via Vivocity Station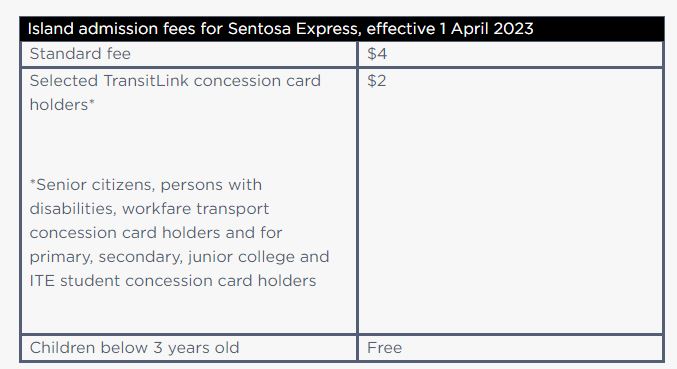 Cars driving in via all gantries at the Sentosa Gateway

Existing ways to enter Sentosa for free will also continue to be in place, including via the Sentosa Boardwalk, SBS Transit Service 123 (only distance-based bus fare applies), as well as through cycling.
*Terms & Conditions:
i. All vehicles with locally registered IU can simply drive through for free
ii. All vehicles with non-locally registered IU can drive in by tapping or inserting your Autopass Card on the card reader at the booth to enter for free.
iii. No entry for Motorcycle. Goods & Services vehicles are allowed free entry on Mondays to Fridays (except Public Holidays) from 8am to 5pm. Admission of $10 is payable for any entry outside of this timing unless accompanied with a valid service order or delivery order.