A guy took to social media to voice out his displeasure at an Aircon Serviceman who we know as 'Ah Lau' based on the screenshots that was uploaded to social media.
This was after the Aircon serviceman asked the man to top up money for some extra items and went missing in action for a while.
Here is what the aircon serviceman said
"I ordered an Aircon service after seeing an ad by an Aircon company online which offered their aircon services at a price cheaper than the market rate.
When the Aircon serviceman, 'Ah Lau' came to my house to do the work, he mentioned that the condition of my current pipes is not that good anymore and recommended me some premium aircon pipes made of copper, of course at a premium price.
He went on and on about how good these pipes are and that changing to them will effectively help me save money in the long run.
Convinced by his talks and the problem was not with the compressor, I agreed and paid him money for him to install these premium aircon copper pipes.
However, less than a week after the aircon servicing, the pipes started to leak and I called 'Ah Lau' to come back to see what is the issue and he replied to me saying that he will get back to me.
After a few days had passed, I contacted him again and he kup-ed my phone call, blocked me and went MIA for a while.
I then decided to contact him via his Whatsapp until he replied, which he eventually did but with a lot of profanities and he scolded me as well.
In his Whatsapp messages, he told me not to 'KPKB' till as if my father and mother is dead, saying that he told me before that I have to wait for the aircon pipes means have to wait.
He even said unnecessary things like my brain got water and to me to continue waiting, scolding 'NB' and asking me if I thought I was the only customer in SG."
Here is the screenshot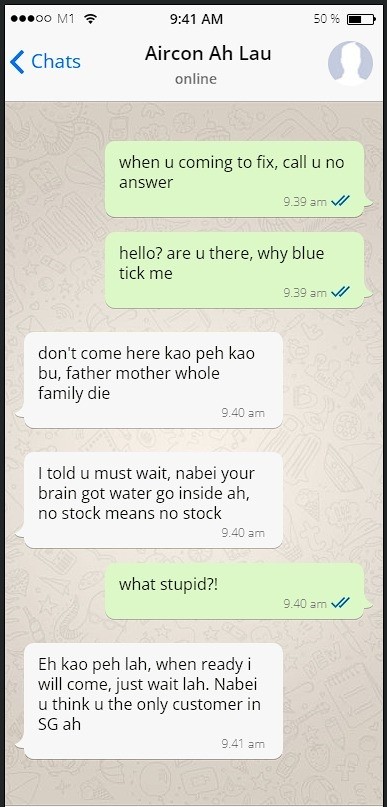 Source: Complaining SG