Wearing a mask is still mandatory in the public transport and while most will follow the law there will always be a few who try to be funny.
A netizen posted on Facebook stated that two tourist did not wear the mask in the MRT, but after being told one of them wear the mask but pulled it down to expose his nose.
The netizen also questioned how they were allowed the enter the MRT station without a mask in the first place.
Here is what the netizen said:
"The friend tried to put on a mask after I told them but pulled his nose out after. These tourists are irresponsible and totally not respectful to our rules. Why are MRT staff not stopping them from boarding?"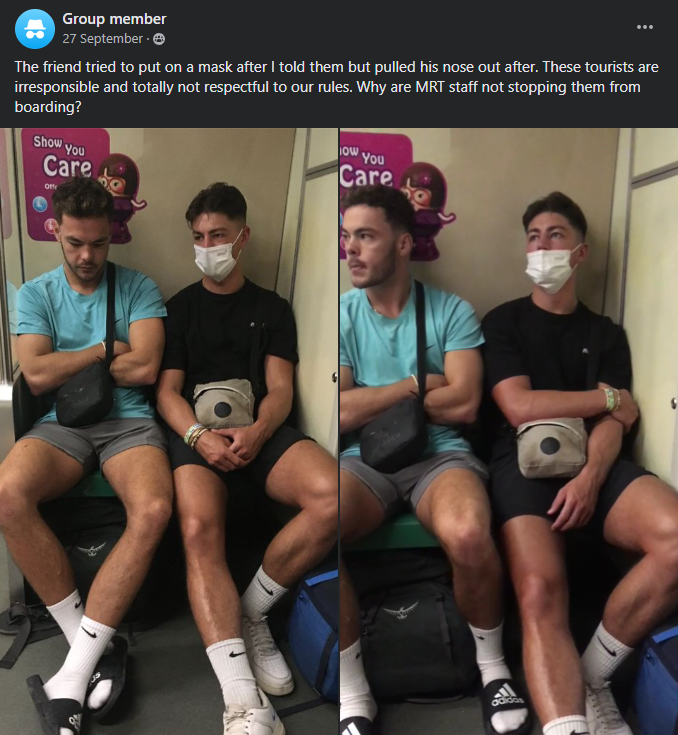 Here are what netizens think:
Tourists have money. They think they can afford to pay the fine. Two able-bodied young men dare to sit the priority seat for others Too!
Yesterday got a group of tourists taking a bus too. When they going to alight then I tell them because even the bus driver dun care, one aunt was wondering y the bus driver dun care.
Penalties
For non-compliance with safe management measures under the COVID-19 offenders may be jailed for up to six months, fined up to S$10,000, or both.
 If they are caught by the Police for not wearing a mask or not wearing a mask properly they can be charged under the Covid-19 (Temporary Measures) (Control Order) Regulations 2020. 
Penalties include a fine of up to SGD$10,000 and jailed for up to six months.