Facebook user Pauline Soon shared how she had a power trip in the middle of the night at her workplace, and she then Googled for a 24-hour electrician.
She found one and contacted the electrician, who quoted her a whopping $350 for his transport fees to reach her workplace if there were no repairs required, which she agreed to because it was already midnight.
Upon reaching her workplace, the electrician then did some "minor checking" of each circuit breaker, before telling her that the whole circuit breaker was spoiled and quoted her $2,300 to change the whole thing.
The woman then checked with a friend who told her not to agree because it was too expensive.
She later found out that the power trip was caused by a faulty fridge instead and not the circuit breaker, and that their circuit breaker was fine all along unlike what the electrician had suggested.
She also included photos of other customers' experiences with the electrician, with many claiming that they had been scammed by him as well.
Here is what she said
Please help to SHARE!!!
SCAMMER 24hr Electrician in SG!!!
Incident: My workplace has a power trip @ 12am, I Google for 24hr electrician and found this contact. He quoted $350 transport fees if no repair required. I agreed as its already midnight.
He came did some minor checking instead of professional checking of each breaker to see what causes the trip and said the whole circuit breaker is spoilt and needed to change the whole breaker which will cost $2,300.
We were shocked hearing it. So we called another friend to ask for advise and did not agree in The change of whole circuit breaker.
In the end, it wasn't issue with circuit breaker, it was trip by a faulty fridge.
After this I went to google for this number and realise I wasn't the only one who was almist scammed. So please beware and share!!!
Netizens' comments
I can co relate to your case. Especially those so call 24 hours plumber. Their knife is very sharp. I kena chop before too.
I asked for free consultation quotation if they came to check on my unit, the fellow keep says i need to check with my boss and no follow up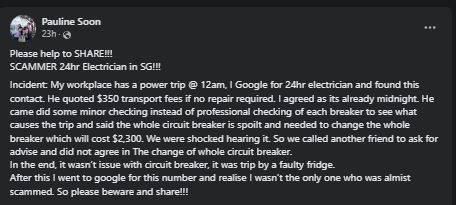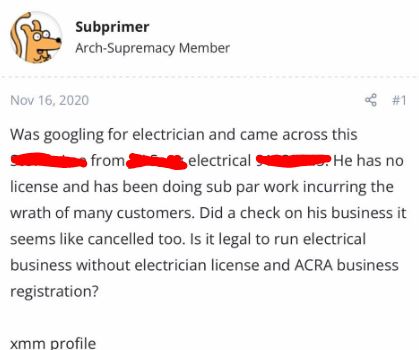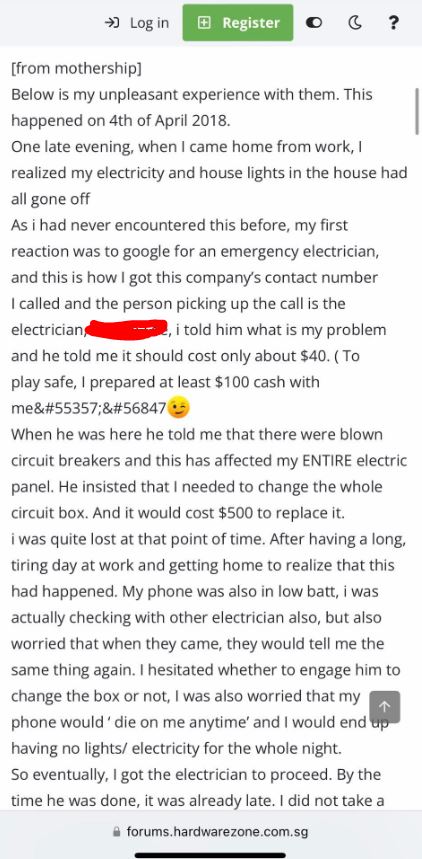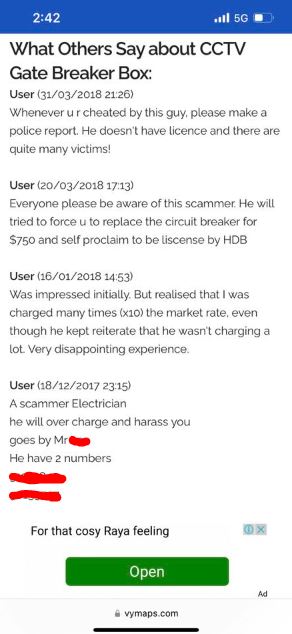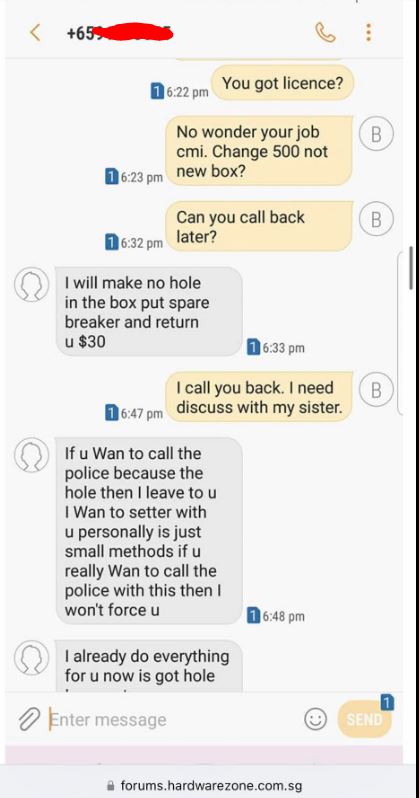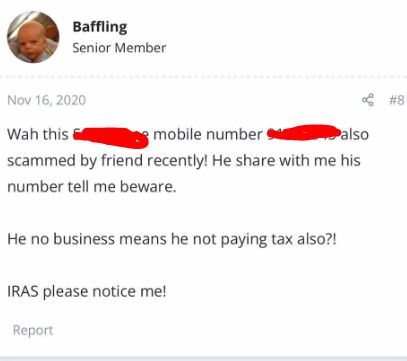 Source: Facebook