A man in China reportedly ran over his girlfriend multiple times with his car causing her death.
The incident happened in Tangshan, Hebei China, and according to the local police, they received a police report on 2 August at about 11.53am, about a man knocking a woman down with his car near a swimming pool.
Police officers then arrived at the scene and preliminary investigations revealed that the man had gotten into an argument with the woman, who is reportedly his girlfriend, according to Apple Daily.
The woman was sent to the hospital but succumbed to her injuries and later died.
The man who ran her over was later arrested on the same day at about 3pm, after initially fleeing from the scene of the crime.
At the time of writing, police investigations are ongoing.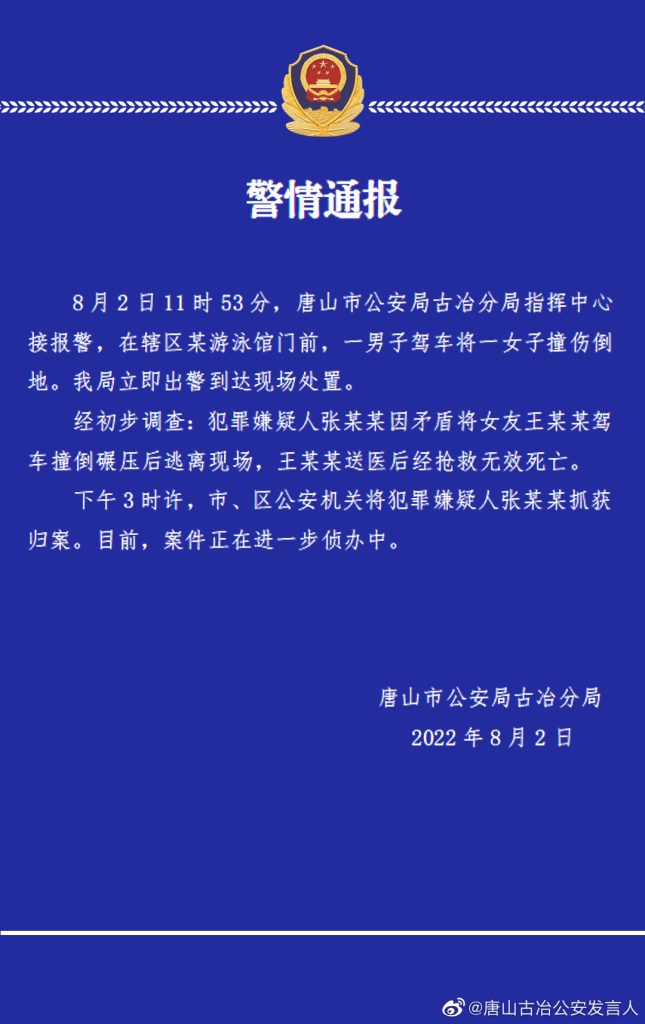 A harrowing video emerged online showing the car running over the victim multiple times after members of the public dragged her away from the murderous driver.
But the man continued to make a turn and run over the woman again as she laid on the ground, and the members of the public had to get out of the way to prevent themselves from being run over as well.
The man was so determined to run over the woman that he rammed into a car in his way, while trying to get to the victim.
He then made two more rounds to run over the woman some more.
Images source: Apple Daily and 唐山古冶公安发言人 on Weibo