Hi we have been scammed by these 2 'plumbers ' ytd night. We needed a plumber urgently as there was leakage from the washing machine pipe, I was worried that the leakage might be worst overnight as there is a freezer near to the washing machine at the backyard, and my freezer is full of breastmilk, I do not want anything to happen to the milk.
So out of desperation, we saw a number on our door step, so we called and these 2 'plumbers' came down to take a look. And he quoted us $220, of course we said no to this. But the 2 of them refused to leave our house and scolded us, they said its Saturday night (close to 6pm) and they rush down here for us bla bla bla. So in the end the guy said ok to take $160 because according to him ,this is a complex case and need to change lots of parts.
Of course we do not agree to it. I told my husband to give him $20 as a compensation since he rush down here. But he refused to leave our house still. In the end he said ok to take $150 and he will change all the parts for us.
After about 1.5 hours, the so called 'plumbers' couldn't get it done and told us that this thing can't be fixed as they do not have the parts. If we want it to be fixed, we will have to give them more money to get it done. Then only we realised this is a scam, we told them no, we are not going to pay extra money because it is not in the agreement since the beginning. In the end ,they put back all the washing machine piping into its original state and left and threaten us to make a police report. So my husband paid him $150.
Around 12am, I wanted to use the washing machine. To my dismay, the leakage is worst than before. Water is leaking out from the top of the washing machine. So we called the plumber and our numbers got blocked (no dialing tone at all). We have since lodged a police report on this. Waiting for police to update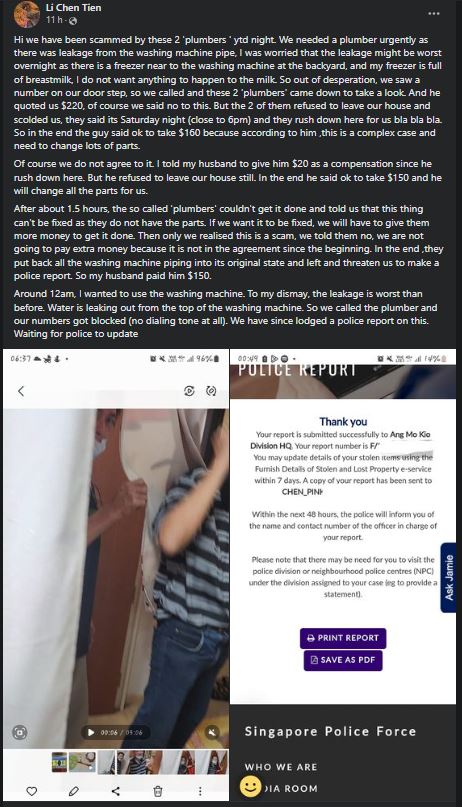 Right-sided image of header used strictly for illustration purposes only and is not related to the alleged incident