Sharing my experience with Shopee below
Dearest Shopee Team,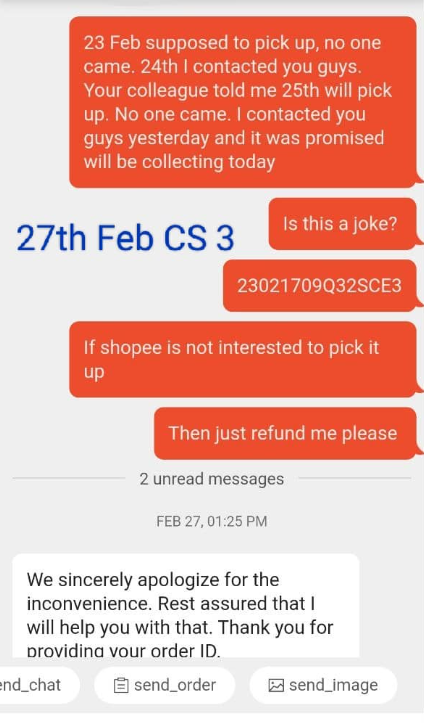 I hope you are having a good day because I definitely am not having one thanks to you and the lousy service that I am receiving so far.
Let me share with you the timeline of how I am trying to return a DEFECTED ITEM only to get replied with messages from your customer service colleagues who CLEARLY DO NOT UNDERSTAND ENGLISH.
I ordered a pot which arrived on 17 February (2302165X0CNPBQ). The very same day I raised a return (23021709Q32SCE3) as the pot is not functional when we tested it.
On 22nd February, I was informed that I can return the pot and have the logistics partner pick it up on 23rd February. I spent the whole day at home, only to have no one picking it up. I then wrote to your customer service officer (CS 1) on 24th to inform you on it and I was told that the item would be picked up from 4-6pm on Saturday, 25th.
Once again, I waited on 25th February with nothing done. I wrote to you on 26th again and this time (which is the most classic one), your customer service officer (CS2), first told me that refund is in process and I can expect a refund within 7-14 working days. So can I now expect to see my refund in the next 2-3 weeks since that's what CS2 said, whether or not you are planning to pick up the item?
I then repeated to CS2 that the item has not been picked up and now CS2 said that a pick up is arranged on 27th morning and she will ensure that the courier partner will pick up as a note was specially left to them. My address was once again requested to confirm that the details are correct.
27th morning came and gone and at about 1.30pm I wrote to your customer service again CS3 assured me that the item will be picked up by 27th.
It's 28th February today, the item is still sitting patiently in my house, waiting to be collected despite the numerous attempts and promise that it will be collected. How much time must I waste waiting and talking to customer service officers who do not understand English?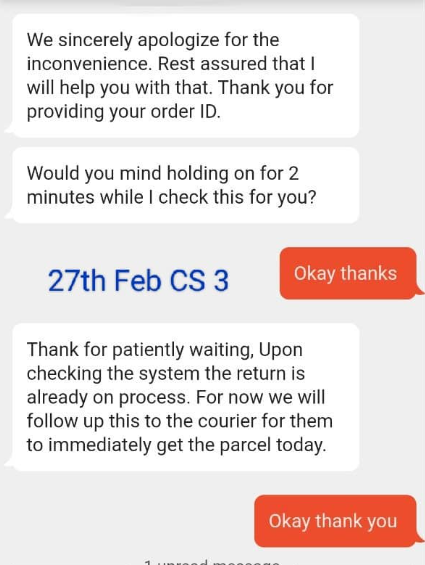 The last straw was seriously the email by CS2 last night (please see below). Can you please explain to me what is the item has been delivered and if I want to process the return of the item, please follow the link attached? Haven't I been talking about the return/ refund of the item all these while? Haven't I told her that if she don't understand me, please get someone who do to work on my request?
Please, this is ridiculous that I have to spend time waiting at home and spend even more time teaching your customer service comprehension. If you are not interested in picking up the item, then just give me my refund and I will be more than happy to just dispose the item.
Thank you.
Regards,
Jessica
P.s an email has been sent to [email protected] with all your customer service officer names and screenshots of the conversation. Information has been masked to protect their identities.
Update from Shopee:
Shopee said: "As an update, our customer service team has promptly reached out to understand the buyer's concerns and have issued a full refund for her purchase. We have also assured her that we will continue to improve our processes to make online shopping more enjoyable for everyone."