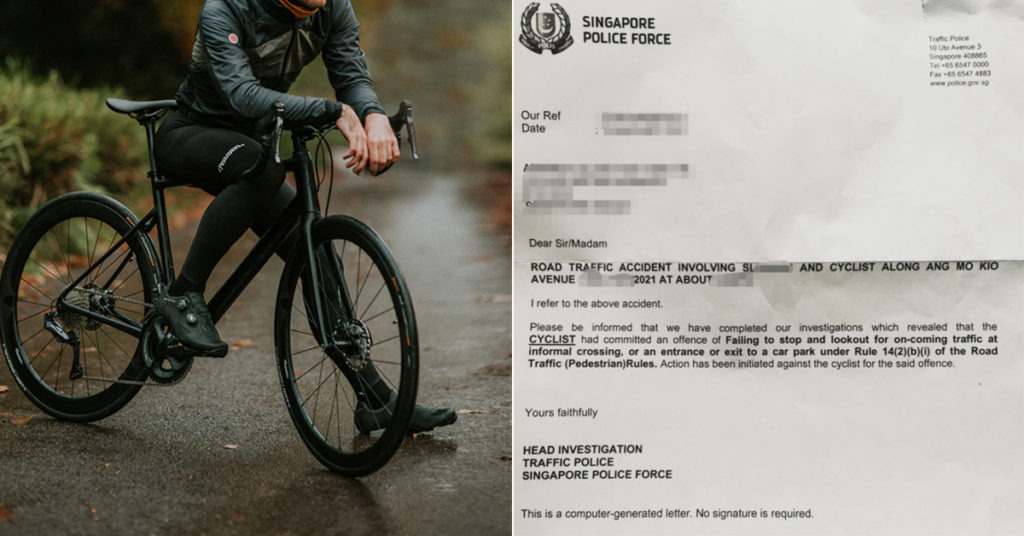 Justice is served .

I was driving out of a AMK carpark in July when a cyclist just suddenly appeared out of nowhere and I jam braked in time . Saw the cyclist fell and I rendered help to him . We drivers usually are afraid of such trouble even though it is not neccesary our fault . The next day I offered to bring him to the clinic , he rejected . 2 days later, he msg me said want to claim my car insurance for his medical bills . Luckily I made a police report on the day of the accident .

Singapore Police Force Traffic Police got back to me after investigations and said they are going to charge the cyclist for ' failing to stop and lookout for oncoming traffic…. Of the Road Traffic (Pedestrian) Rules .'

I hope this experience of mine will encourage other fellow drivers to not be afraid of reporting to the police for such incidents and not that everything is always the fault of us drivers when it comes to traffic accidents involving cyclists , PMDs and even pedestrians . I used to think so that we will always be penalised for knocking them down despite them not looking out for cars , but I'm so wrong .