A family member of a hit and run victim is appealing for information on the accident which happened to the victim on 29 January 2022, a Sunday, at about 11.45pm on a junction at Jurong Town Hall Road.
The said accident happened between a White Toyota Sienta Vehicle and a senior lady who is the mother of the woman who is appealing for eyewitnesses or dashcam footage of the incident.
The vehicle had apparently failed to give way to the pedestrian who was crossing at the discretionary right turn junction and ended up hitting the senior, though not crashing into her directly but side swiping her.
According to the woman, the driver did not stop to give assistance to her mother but instead sped off and the Traffic Police is currently still investigating and trying to establish the identity of the driver of the vehicle.
For those with information, the woman greatly appreciates if they can reach out to her here.
Here is the post by the woman
"29 Jan 2022
11.35-11.45pm

White Toyota Sienta (might be PHV)
Hello everyone, I am reaching out to witnesses and/or camcars who were at the sight of accident that occured on 29-Jan-2022, Saturday, at about 11.45pm at the junction of Jurong Town Hall Road.
Toyota Sienta driver failed to give way at the discretionary right turn junction although pedestrian light was green. As a result, the car hit my mom (not a direct full on impact). Driver did not render any form of support, but chose to drove off – Hit and Run. TP is currently in the midst of tracking down the the car plate owner.
If anyone has any relevant information, please feel free to DM me. Much appreciated for your support."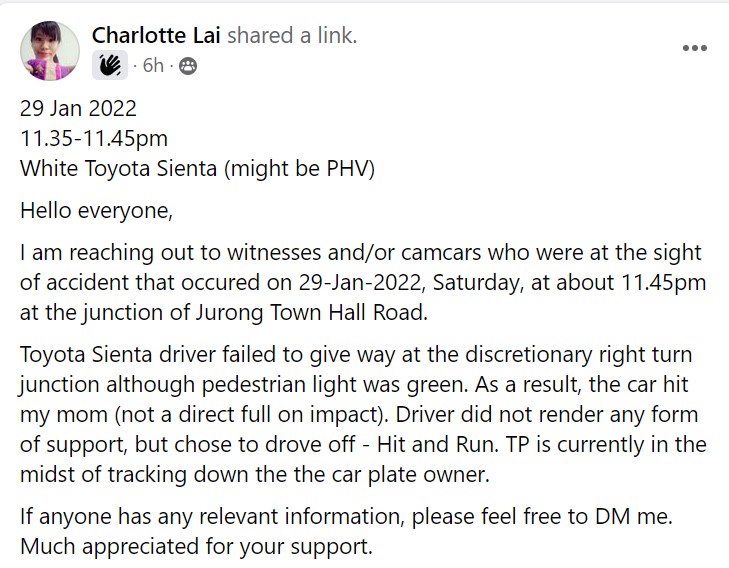 Full video loading
Here is the video of the hit and run incident.
Image and Video source: Charlotte Lai/Facebook, SGRV/Youtube