A woman posted on Facebook that she has been harassed by a man since August 2022 and the man had continuously spread rumours about his relationship with her online.
The woman claimed that he does not know the person and he man has continuously made false accusations that she has left him.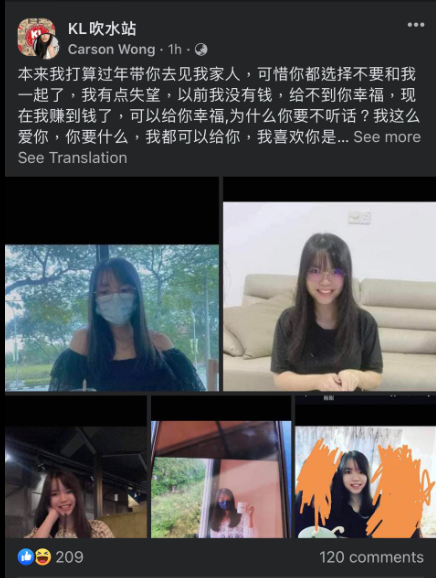 After the man was rejected by the woman, he started making stories online saying that the woman had cheated on her. But the fact is the woman had never even met this man before.
Video of the man singing for his 'love'
The man even goes as far as recording a video of himself singing to the woman to confess his love.
Thinking his singing voice can make the girl of his dreams feel touched. However, the woman responded and state that the man has been harassing her non-stop.
Here is what she said:
Hello everyone
There is a guy called Carson Wong who posted me and my friend's photos on facebook recently.Since he keeps posting photo of me and my friends , I am here to declare that there is no relationship between us. It's all swagger and his fantasies!
I have reported to the police and Carson Wong also agreed not to spread any fake news.
Besides, he also keep harassing my friends. If you receive his harassment, please ignore it and block him.
I hereby warn that I will take legal action if he still keep spreading fake news , and I will post a video of his apology.
最近因为fb 有一名男生叫 Carson Wong 的男生一直有在facebook 各大群组发布的我的照片和我朋友的照片。 他一直招摇和发布不存在的事情。 本人在此澄清我和carson wong 完全没有任何关系,也不存在任何暧昧关系。 一切都是纯属招摇和他的幻想症! 若他有在messenger那边信息你们想得到我的联系方式,请大家决绝或者block到他。 谢谢你们
一直以来我都不想澄清,因为清者自清。 几个月前我也已经报警了,Carson Wong也答应警察不再乱发布假新闻,我当时也是有拍下视频。可是这几个月后他又来发布假消息,警察对他束手无策,毕竟他拥有一张卡。 可是他的行为不让我无法在包容。
最后他也一直去骚扰我朋友和她们告白之类的信息,若你们收到他的骚扰可以选择无视或者block。非常抱歉
本人在此警告,若他在发布假消息,我将会采取法律行动,还有发布他的道歉视频。 谢谢你们