A Private Hire Driver took to social media to show a conversation which he had with a passenger on one of the private hire platforms.
In the chat with the passenger, the driver was apparently asked by the passenger to wait five minutes for him or her after his arrival to the passenger's pick up location.
This request from the passenger led to the driver replying the passenger to only 'book a ride when he is ready' and that he is 'not his personal driver'.
Driver had his reasoning for doing so
According to the post by the driver, he had his own reasoning for doing so and here is what he said and it actually makes sense so maybe we should all stop being entitled and only book when we are ready to take the tide.
"If you wait for 5mins for 12 diff pax. That is an hour of your earning gone. Some pax really think they entitled… Fyi, this was the thursday evening peak rain 😂😂😂"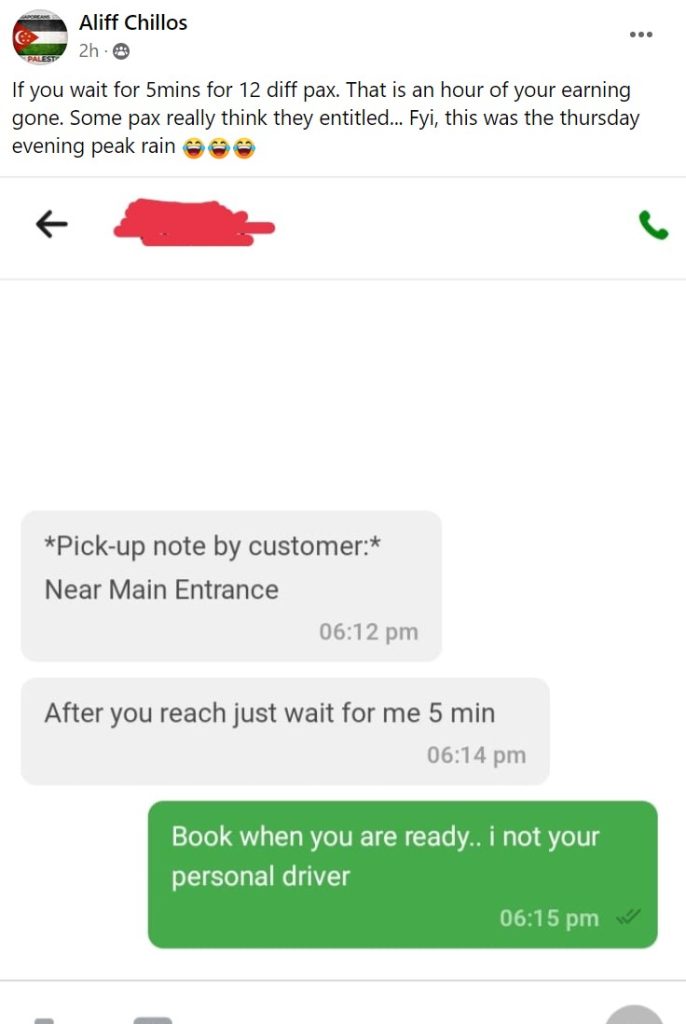 What other drivers have to say
Most drivers which SG Uncensored have spoke to before shared the same views as this particular driver in question.
When asked, most said that they wanted passengers to know that five minutes might seem like nothing and on average a full time driver drives around 20 trips a day.
If they have to wait five minutes for every passenger then it will be 100 minutes a day.
That is at least 1 hour and 40 minutes spent just for waiting for passengers a day and if you convert that into monetary terms, a driver earns an average of $20-$30 an hour and to moderately put it, they will lose out almost $40-$60 a day just because they have to wait for passengers.
That will then sum up to almost $280-$360 a week which in monthly terms makes them lose out $1200-$1800 a month.
That is equivalent to the amount some people earn every month.
So to put it simply, let us try to be considerate and spare a thought for the drivers who are also making a honest and decent living just to put food on the table.
Image source: Aliff Chillos/Facebook