A netizen took to social media to show her displeasure with the services of an EAT outlet at Jurong Point via a post which she uploaded.
EAT outlet is ran by the people behind Fei Siong Group.
In the complaint post written by the netizen, she mentions that she had taken the effort to walk to the EAT outlet located at Jurong Point Shopping Centre at 3am under the rain looking to ease her hunger with a bowl of noodles.
However, when she reached the outlet, the stall attendant refused to serve her the noodles and told them that they only open at 5am.
The netizen further mentions that she did a check on the Grab and FoodPanda app which shows that the restaurant is still in service.
She ended off her post by mentioning to Fei Siong Group not to put their operations as 24 hours if they cannot serve food in the wee hours as making an empty trip had wasted her energy and effort to walk over.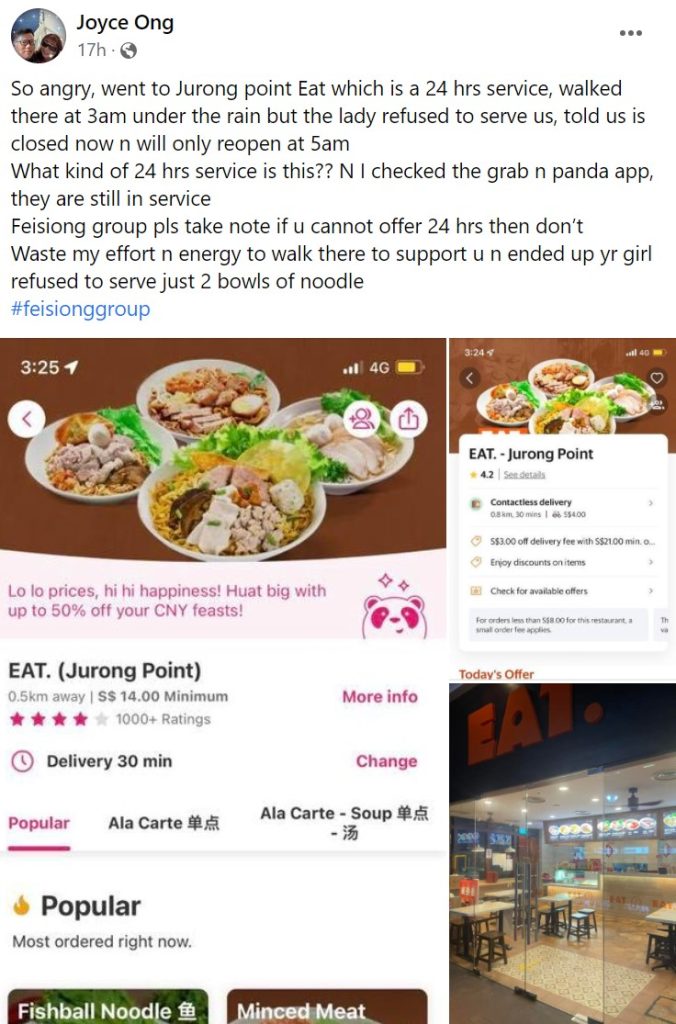 Netizens' comments
At the time of writing, the comments section in the post had been switched off to prevent more comments.
However, some of the comments by netizens indicated that some of these outlets only have 24 hours service for delivery and not for dining in and it is only available for self pick up via orders from apps after certain hours.
One netizen has also mentioned that there is a difference between 24 hours food delivery service and 24 hours dining in to which the lady replied that the shop was open but they were refused service because the stall attendant was busy preparing.
Here are the comments from the netizens:
Next time use panda/grab self pick up function. got 20% off also. If they cancel the order that means the food not ready or something ..
Sent an email to the food court management and see what's their reply.
Some shops only open 24 hours for food delivery not dining in. After certain hours need order self pick up thru apps.
There is different between 24hrs food delivery n not 24hrs dining in.. please read…
Image source: Joyce Ong/Facebook