Finding a job is different from the last few decades. In the past, people used to search for jobs in newspapers and now most of it is online.
Even interviews has mostly gone online due to the changes in the world. But some employers prefer the traditional methods of meeting in person.
An employer recently posted a photo on Facebook and shame an interviewee after she asked if it's possible for a virtual interview.
The post has garnered over 1,100 shares and 380 comments after 1 day.
Here is what the employer posted:
"Call me a boomer but I seriously think our future is fked.
Decided to take the time to interview this student tomorrow. Gave her the benefit of the doubt cuz' she actually left her internship company after working for just one day, claiming that the environment was toxic and is now looking for a new internship company.
19 mins after agreeing to come down for an interview, without giving any reason, she probably figured that a virtual meeting works fine too.
Sarah is the very reason why I absolutely welcome foreigners who are hungry and hardworking to work here. F all these rules and laws protecting entitled Singaporeans."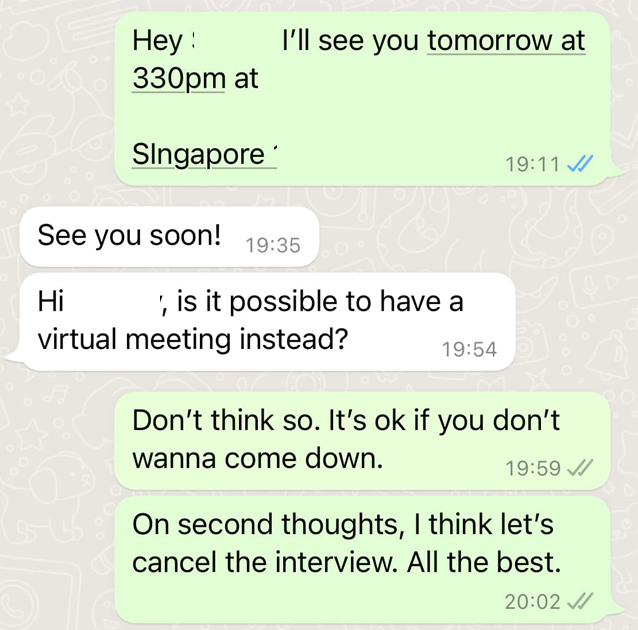 The post went viral quickly and faces backlash from netizens: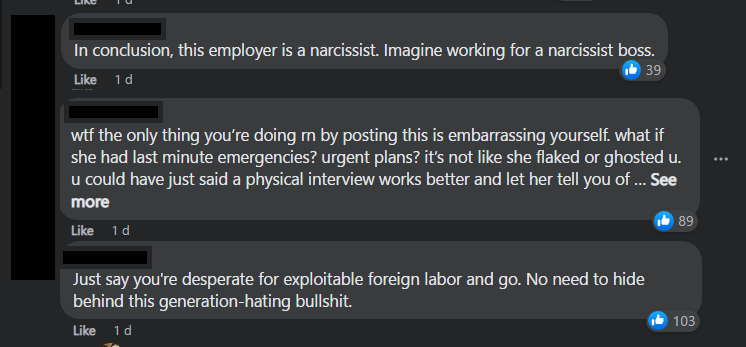 "it is not last minute. a valid question. if cannot say cannot. if can say can. thats why Singapore alot of bosses but no leadership."
"No wonder people join MNC instead cause local boss no leadership quality and think they are peak. foreign talent is good include a foreign boss"
"Genuinely, I don't understand the mentality of expecting your candidates to be hungry enough to endure a toxic environment, or low pay."
"Alot of employers doing virtual interviews now. What's wrong with asking? U need to get yourself updated and don't blame others when u are falling behind."