A Hyundai Veloster was hit in an accident along a roundabout at Newton Circus, resulting in the driver being in critical condition at the Intensive Care Unit (ICU) in Tan Tock Seng Hospital.
His cousin-in-law, took to Instagram to appeal for witnesses to the accident, revealing that the man is fighting for his life in the hospital.
The Singapore Civil Defence Force confirmed the accident and said that they were alerted to accident on 12 February at about 7.20am, and one person was conveyed to Tan Tock Seng Hospital.
Here is what she said
This news saddens me so much today, PLEASE help my cousin out, a mother of two beautiful kids, her husband got into an accident this morning.
Need video footage/eye witness for an accident involving a car, Hyundai Veloster, hit this morning at Bukit Timah flyover.
Her husband is currently in critical condition in the ICU at TTSH, fighting for his life and losing a lot of blood due to his brean bleeding abdn being stitched up 3 times today.
Kindly share/repost DM if you have any information.
Netizens' comments
Saw the aftermath yesterday at Newton circle. It was really bad but didn't see the involved parties. Hope that all would turn out OK for the injured parties and a reminder for myself to continue to be wary.
We have so many cameras at hdbs. No cameras for the roads?
I saw this accident but sorry I only see after not before. Speedy recovery! Sure there will some one witness the accident.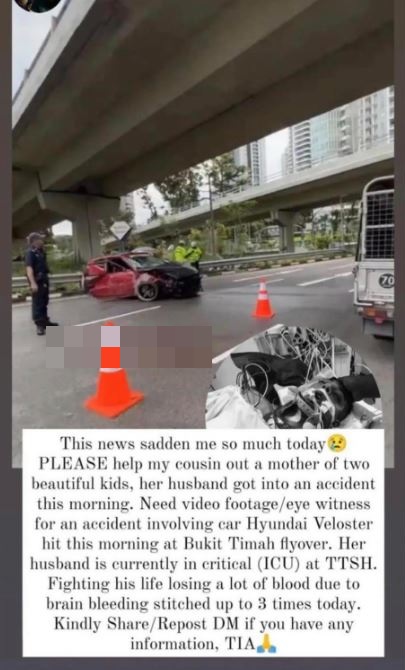 Source: Facebook