Many netizens have uploaded photos of the situation in Johor Bahru after a heavy downpour.
Roads and car parks were seen filled with water due to the flash floods (Aug 2). A netizen uploaded a photo of Hospital Sultanah Aminah (top photo) which was seen flooded.
Flash Floods
Heavy rain for more than an hour resulted in several roads in the city of Johor Bahru.
A resident, Rahman Abdullah, 60, said he and his family members were in the city centre and they faced traffic jams for more than half an hour due to flash floods.
According to him, the heavy rain started at 12 noon. "We are lucky because vehicles can still move slowly on Jalan Wong Ah Fook even though the road is flooded.
"We also understand that the routes on Jalan Yahya Awal and Jalan Ayer Molek are also face flash floods resulting in congestion," he said.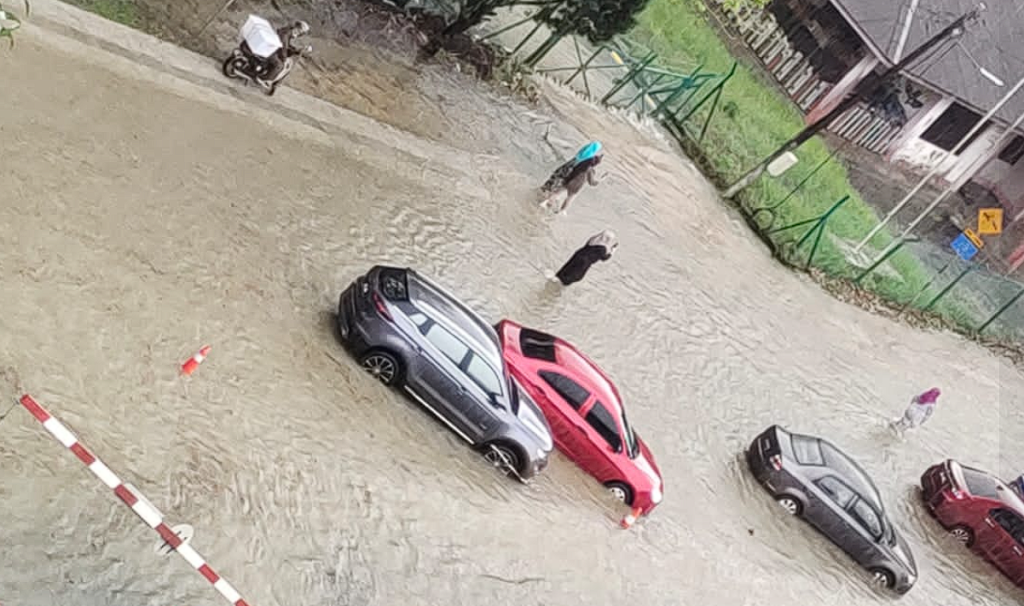 Meanwhile, the President of the Puteri Malaya Bersatu Youth Association (Perimau) Johor, Mohd Ridhwan Othman said, his party also received complaints of flood threats on Jalan Persiaran Abu Bakar Sultan in the grounds of Hospital Sultanah Aminah (HSA) in Johor Bahru.
According to him, the matter causes difficulties for visitors and patients who deal with the hospital.
It is understood that flash floods also hit Kampung Muhamad Amin in Nong Chik with water up to waist level, Jalan Pantai Lido Menghala to the Town Center, Jalan Mahmodiah in front of Restaurant Yasin and Jalan Seri Pelangi Menghala to Stulang Laut.
Meanwhile, a spokesperson for the Malaysian Civil Defense Force (APM) through a statement confirmed receiving reports related to flash floods in several areas around the city of Johor Bahru.
Vehicles in open-air car parks and roads were also affected. Chief Minister Onn Hafiz Ghazi was on site to assess the damages