A netizen going by the alias of Jia Hui on Facebook recently posted about her attempt to try and get a refund from Royal Caribbean cruise but got her refund request rejected.
Husband suffered heart attack
The reason for the refund request was because her husband had suffered a heart attack and was hospitalised.
The husband also was given a hospital memo by the doctor which certifies him unfit to travel for a month.
Here is what she said
"Post to create awareness about RC cancellation policies and the lack of empathy in replies. And yes I did buy travel insurance.
Booked a family trip (6 adults + 1 baby) to the royal carribean on 30 Jan. Husband got hospitalized for a heart attack and gotten doctor's memo for unfit to travel for 1 month.
Emailed Royal carribean while husband is in the hospital on 22 Jan informing them and seeking refund/postponement in view of genuine medical reasons for all 3 staterooms if not just our family room as my husband is not fit to go and no one has the mood.
RC's cold hearted replies were refunds are only allowed for covid, pregnancy or death! In which way is heart attack and hospitalized not as serious of the 1st 2? Postponement is also subjected to full price.
Despite emailing them they did not reply. It has been more than a week since I have emailed them hoping they will at least show sympathy as we have bought 3 staterooms with 4 seniors and a baby excluding my husband and myself.
We understand it may be too late to cancel not within their 14 days period but who can predict when u will be hospitalised? We purchase wifi which they ignore us about refunding too.
Extremely disappointed with RC way of handling with only a standard reply of an email from their apac team saying they have to follow the cancellation policy and will not be able to do anything. Ask to speak to customer service was pushed around to say only their apac team makes the decisions. Ask to speak to senior management emailed was ignore for more than 1 week.
Do not purchase RC tickets! Because u will be dealt with cold hearted replies."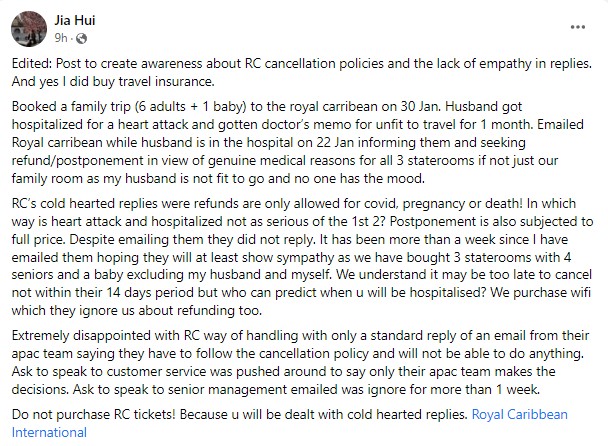 Here are the message logs between them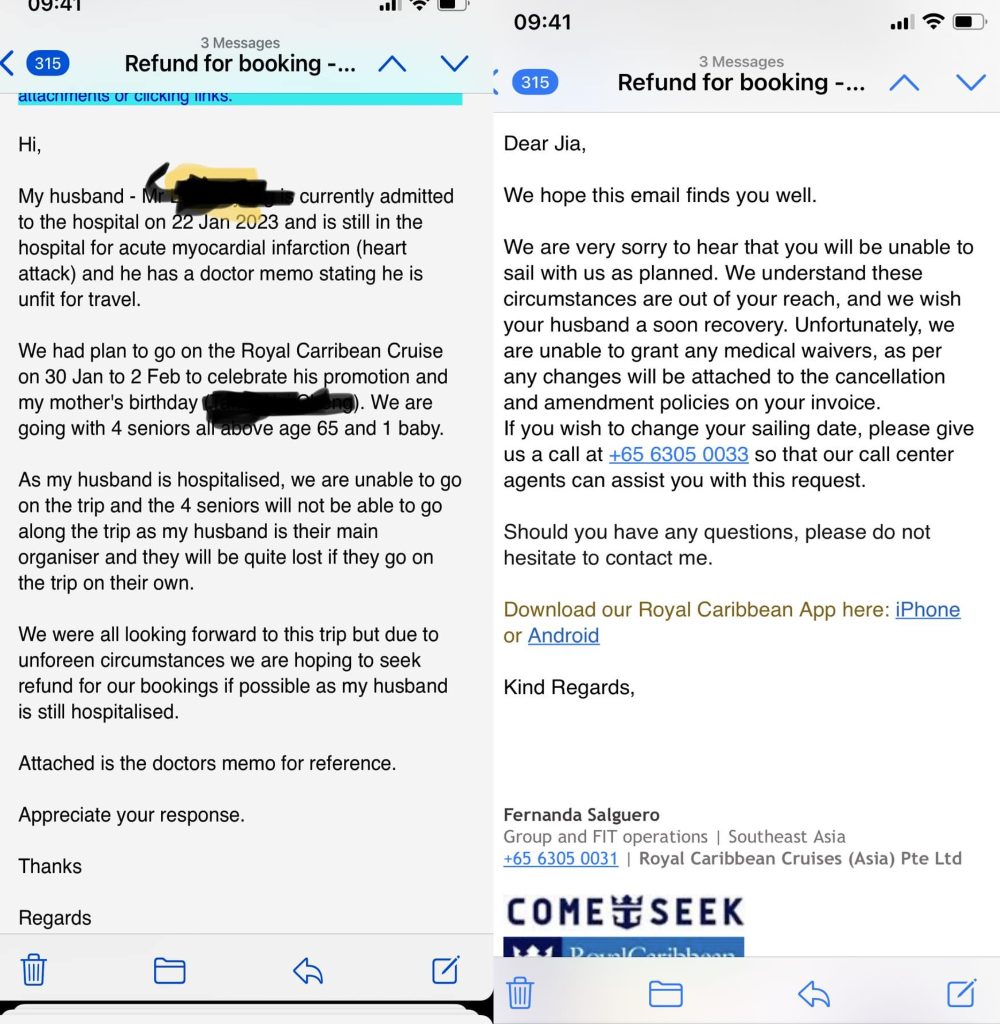 Image source: Jia Hui/Facebook