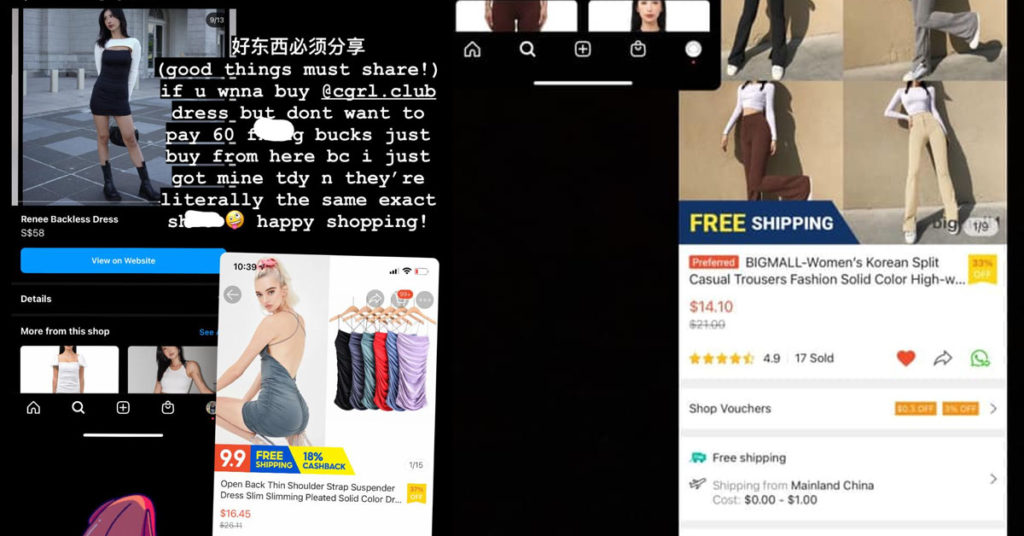 hi everyone! pls read my post fully before giving ur opinion. this is my first time posting here and i felt very compelled to do so to warn and spread awareness about some SG fashion boutiques on instagram as some are not as honest and ethical as other small businesses out there and some of them are just plainly cheating ur money to make a quick buck. In particular I've had a very bad and infuriating experience with CGRL CLUB
Few months back i purchased 2 items from them ( $58 for 1 pants and $36 for 1 top) which costed me $99 (stupid of me i know
) but I had followed them on IG for quite awhile and I thought their pieces looked good quality and that they were trustworthy as a brand as they strongly believed in woman empowerment and girl power and all dat stuff because that was all they preached about on their IG
also their VERY STEEP price points of their clothes made me believe that they designed these pieces themselves. anyways when the clothes actually came the top was made of this rlly itchy material and the pants were jst normal cotton flare pants so they rlly werent worth $99 AT ALL.
So fast forward to a month i saw and bought their exact same pair of pants i paid close to $60 for on shopee for JUST $14!!!! and i obviously was damn pissed off bc i was cheated off my money and i contacted them for a full refund bc i lost my absolute trust in them bc how could they have come up with such ridiculous prices for damn cheap clothes -.- but anyways they still die die cnnt give me my money back bc it was against their policy bc it was alrdy 1 month but NVM I TOLD them KEEP THE money but i brought it up on my social media instead to call them out and expose them for being a scummy brand.
plus just recently i also bought the exact same dress they were selling which was $58 on their website FOR JUST $18 ON SHOPEE!!!! also i know this is how most online fashion boutiques work but it was so obvious that this brand is plainly just ripping off girls' of their money with no remorse.
and when i exposed them they srsly werent happy and one of the "GIRLBOSS" of the brand EVEN THREATENED TO TAKE LEGAL ACTION AGAINST ME jst bc i showed everyone how much of a scam and how dishonest they really were. the girlboss also acted so bl**dy entitled like i was the one begging for their clothes. mind you these "FASHION ENTHUSIASTS" girls that created the brand r rlly alrdy so bl**dy RICHHHHH so i dont know how they sleep at night knowing their brand isnt ethical and honest. n the fact that they threatened to sue me alrdy shows how fr*aking guilty they are. i UNFAIRLY paid $99 for them when they werent even close to be worth THAT MUCH so as a disgruntled consumer I WILL GLADLY COMPLAIN ABOUT THEM ALL I WANT
not gnna say much alrdy just refer to all the pics ive shown thank u all