Facebook user 벨라김 said that she had booked a Grab ride and while waiting for the vehicle, the Grab driver allegedly messaged her and said that he was having an "app glitch" before asking her to cancel the booking.
She then told him that if she cancel, she would need to pay the cancellation fee; to which the driver then told her "if's okay if you don't want to cancel, if I cancel you will have to pay, your choice".
After a while, the driver said "ok never mind I will cancel," but after a while 벨라김 noticed that the driver hadn't done so and was still moving towards the pickup.
She then messaged him and called him a scammer for not cancelling.
Here is what she said
just posting here for future reference!
Do not cancel if the driver claim app glitch, especially when you'll be charge cancellation fee for cancelling.
I am not sure if the cancellation fee will be given to the driver or will be paid to GRAB but either way, driver shouldn't have ask me to cancel and insisted that I will have to pay if he cancel instead, if he himself is not sure how it works.
Cutting it short, driver claimed app glitch and ask me to cancel, I did try to cancel and it showed that I'll have to pay $4 for cancellation fee.
I then replied as shown in picture and driver insisted that I'll have to pay if he cancel.
He then proceeded to say he'll cancel which he didnt, until the app showed that he has arrived. 
I seriously have no idea what he was playing at, maybe trying his luck to charge without taking the ride, cant say for sure, but its a pretty annoying thing to deal with at 7 in the morning.
Once app shows driver "arrived", the ride was then cancelled and I wasn't charge!
So if you encounter this situation in the future, please do not proceed straight to cancel and end up paying the cancellation fee for a glitch that wasn't your problem to start with.
Even if driver say you'll need to pay if you dont cancel.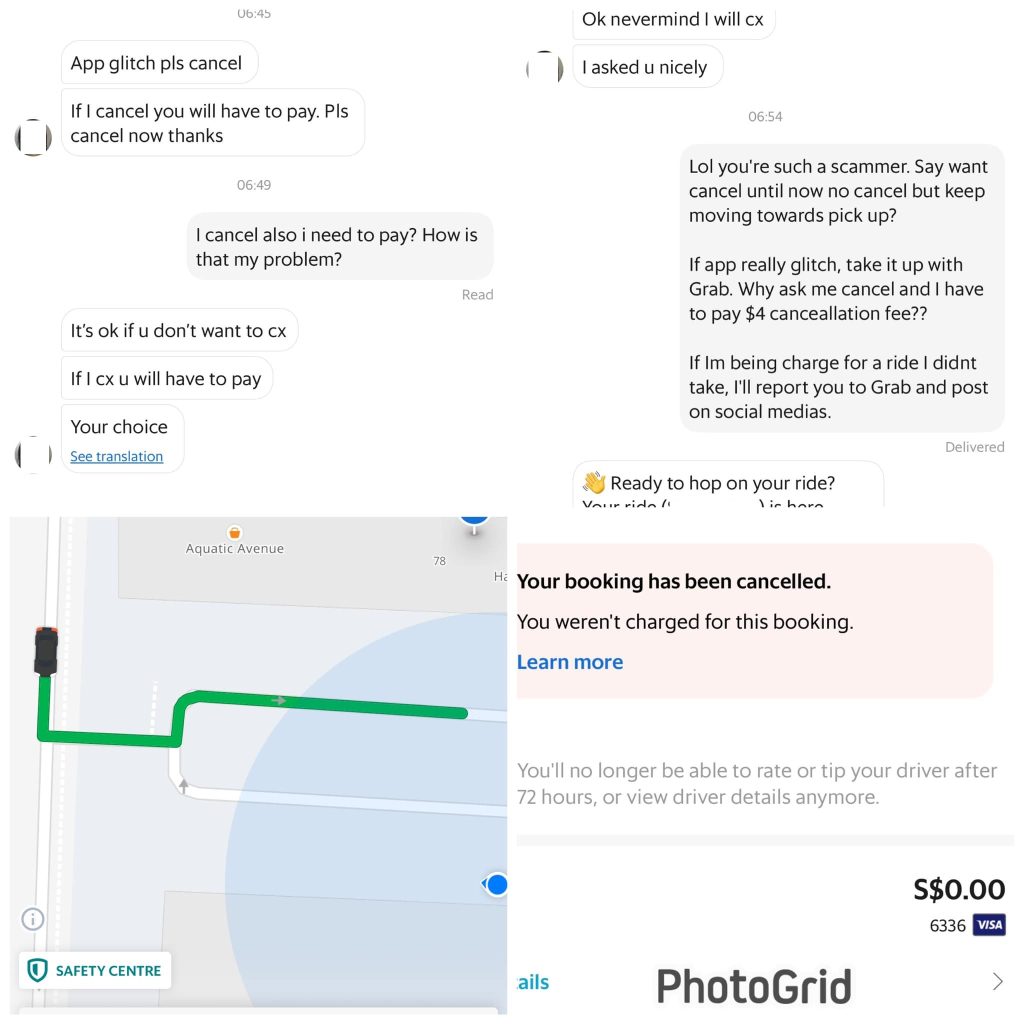 Source: 벨라김 on Facebook