The Chinese New Year is one of the most important busy festivals and it is a time of great joy and celebration.
Every year, during this period, the number of people travelling around the country significantly increases. As a result, the demand for transportation services also goes up.
This is when Grab drivers have the opportunity to make a lot of money.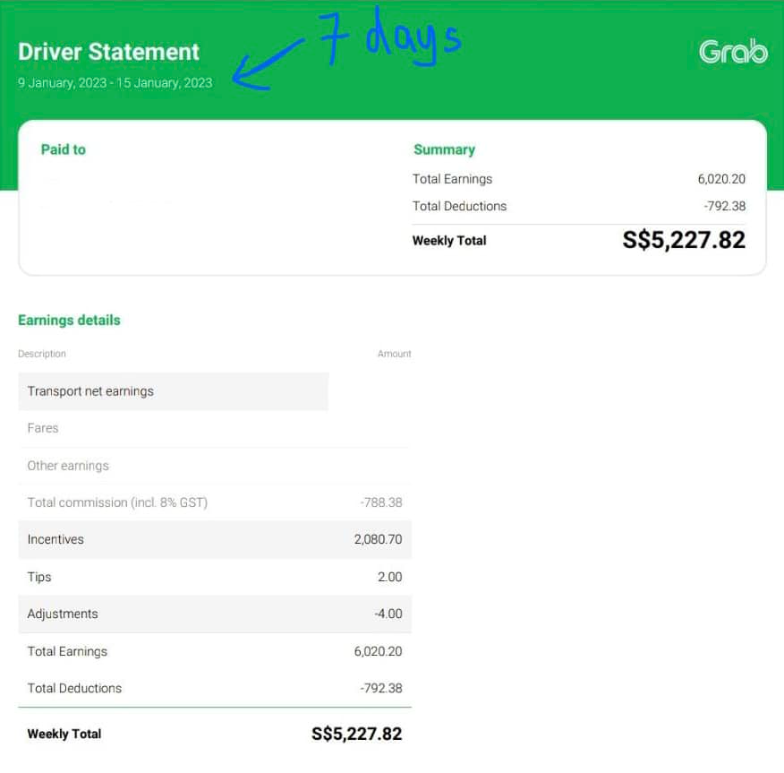 A Grab driver in posted his earnings report for 7 days and During the Chinese New Year period, showing an impressive $5,227.82 in just 7 days.
Many drivers saw an opportunity to make more money by driving around people who were travelling during this time. Grab drivers realized that by taking advantage of the demand surge, he could make a lot more money than usual.
Many drivers often put in extra hours during the Chinese New Peak period, from the 21st of January to the 24th.
Working Overtime
Grab drivers often have to grind and worked from early morning to late night and drove around people who were travelling for the Chinese New Year.
At the end of the week, The Grab driver was elated to find that he had made an amazing $5,227. This was more than double what he usually made during a normal week. He was so impressed with the amount of money he had made that he shared his story on social media.
The driver's success story quickly went viral and many other Grab drivers began to take notice. They realized that if they could put in the same amount of effort that he had, they too could make a lot of money during the Chinese New Year period.
How?
So, how can a Grab driver manage to make so much money in such a short period of time? Here are some of the strategies he employed:
Always online and ready to accept requests for rides. In doing so, Grab drivers are able to take advantage of the high demand for rides during the Chinese New Year period.
By following these strategies, He was able to make an incredible $5,227 in a span of just 7 days during the Chinese New Year period. His success story serves as an inspiration to other Grab drivers and shows them that it is possible to make a lot of money during peak periods.