There's a common misperception that driving for a ride-hailing service like Grab or GoJek or Tada is an easy way to make money.
But the reality is that it can take a lot of hard work and dedication to make a good living.
Recently, a Grab driver in Singapore shared a screenshot of his impressive earnings in a couple of days. He earned a total of $1,175.82 on Jan 22, 2022, after driving for during the CNY period and completing 137 jobs.
However, netizens said that his health might be affected for driving Grab a whole day. A netizen said: "No life and soon will be visiting hospital".
While another man pointed out that the driver should have spent time with his family for Chinese New Year, assuming that the man has a family. (Brain got water)
"hello CNY must celebrate with family why the whole year driving still not enough must work on the cny" said Tan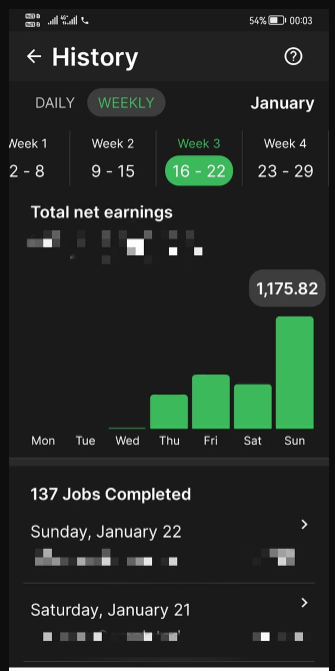 Here are what netizens think:
It's because many drivers off la on this special day. Those who drove will surely gain. Every yr the same no need be so happy will never happen again for the next few months till another CNY…
Now is good time to choing for money if you are single lah. Because now is supply less demand more.
Once in a while okay lah… CNY comes once a year. So no harm chiong for one or two days lah… after that rest for one week.
Power. More than my 1 week earnings
Confirm drive morning till late next morning… Chiong all e way.
he very young no family yet.. so time foe him earn money now.. and now alot ppls do that even they got family. Every one got different needs. So I don judge others ppls life. We dk what they go thru