Following the emergence of a Grabfood customer who accused a Grab deliverywoman of being racist towards him, Grab has since responded to the incident.
In a screenshot of a comment, Grab said "Hi there, we are genuinely sorry for the experience. We have responded to your DM and will communicate with you there".
The netizen who posted the original post on Facebook, Amritpal Singh, then replied while tagging Wake Up Singapore in the comments.
He said: "Grab contacted me and apologised. They offered to send me cupcakes again. I refused the cupcakes or any refund."
He added: "I just want her (the delivery woman) to learn that such a thing is not how a service is delivered. Especially using a racial slur. And an apology from her."
He also said "If I do not get an apology from her or any updates from Grab, a police report will be made. I am resorting to this here because Grab helpline not chatting with them online helped me as they say they can't help with this issue."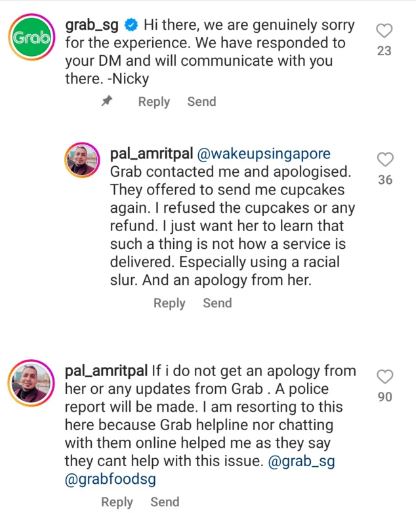 Recap