Facebook user Raymond Choo, posted a photo of Grab's marching contingent at the National Day Parade last night, captioning it "huat ah, $5,700 in pocket liao".
Another netizen then asked him what he meant by it, to which a netizen named Chow Chee Keong then commented with a photo, breaking down the remuneration.
The marching continent for Grab are purportedly reimbursed with $4,500 in cash and $1,200 in fuel vouchers, for taking part in the national day parade.
In what appears to be an email/message that was sent to the Grab partners, it said:
"Dear Partner,
grab is proud to be part of this year's National Day Parade 2022 Marching contingent, and we would like to invite you to join us as part of the Marching Contingent!
To volunteer, you must meet the following criteria:
A Singaporean or PR
Below 60 years old
Medically fit and fully vaccinated
Able to commit to all sessions as shown below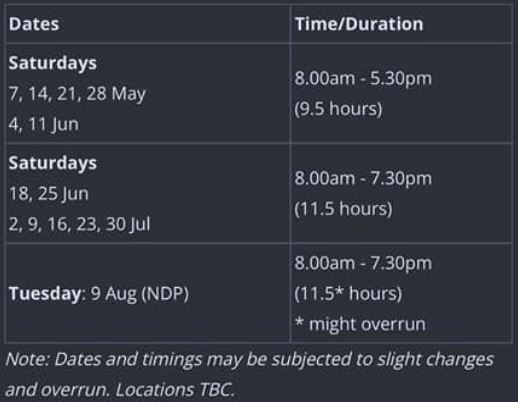 As a token of appreciation fo your time and commitment, we will reimburse $5,700 (mixture of cash and fuel vouchers) to successful applications for the marching contingent, which will be broken int o the 2 following parts:
$1200 in fuel vouchers upon completion of 6 practice sessions
$4500 in cash after 9 Aug NDP
Interested? Tap on "SIGN UP HERE" or tap here to indicate your interest now.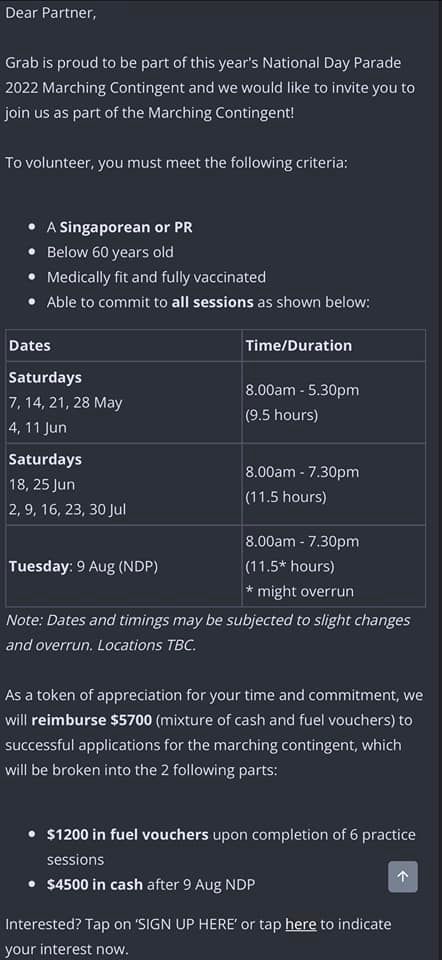 Netizens' comments
$5700 they will get just for marching. Easy peasy
The announcement was made to to grab riders and drivers if wanna volunteer do ndp marching. Have to attend all the rehearsal till actual parade. That's why the composite
No need to work anymore liao..can enjoy already..