A netizen posted photos of his son on Facebook
Choose your stylist carefully at Kcuts 10분헤어컷 at nex.
The skill of this stylist at nex is terrible, you tell him to cut short, he will cut all the way to the hairline!
Totally unprofessional!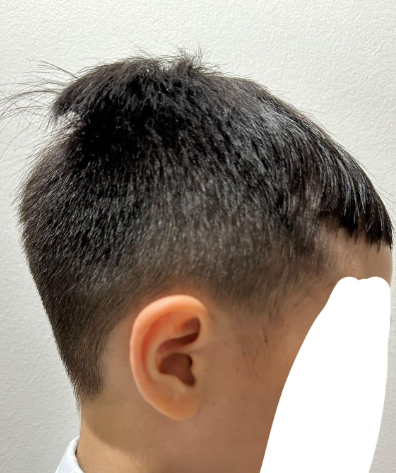 The dad had updated us he did not act in a hostile manner and had only questioned why the Stylist had cut the front so short. The stylist had in fact replied rudely to the question that this was the style he wanted.
Kcuts 10분헤어컷 had blatantly lied about the dad stopping the haircut when in fact the Dad had allowed the stylist to continue.
Talking about service recovery, offering free hair cut or discounts will not resolve the damage done. Most likely have to cut Botak at this short hair length!
Integrity and Service
Here are what netizens think:
This is what happens when you hire cheap skilled jiu hu kia
No skill at all… But if you want skill, kcuts should not be where you wanna go IMO
It's Korean style ! Just accept it ! I think the boy also know it's cool just look at half the kpop videos
even kim jong un has a better haircut… unfortunately this kid has to have flying hair like ufo, but i guess we all have been through that regret phase when we were younger hahahaha
Previously I also kana from a siht aunty at greenwich v,, k cut apologise n send me a return voucher, think I want to go back n get another free haircut from her?
Some of the stuff at hair dresser is not good i mean is you tell them exactly you want to cut but at the end it was not exactly you want for your hair even tho they have a browser to choose still not perfect that's why I always done cutting my hair I'm more satisfied than having at salon