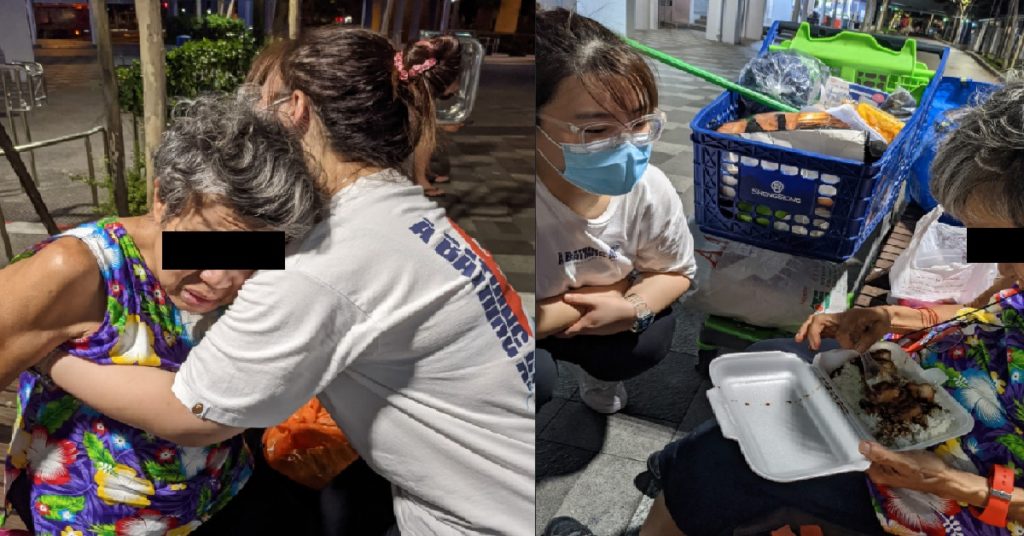 A netizen shared that he bumped into an elderly woman in her seventies, who was homeless and sleeping in the streets.
She had health issues and was visibly in pain as she pushed a trolley around, surviving by collecting smashed tin cans to resell.
The netizen was part of a homeless outreach group and they helped her change her diapers as a nearby toilet, as she ambled excruciatingly slowly.
Here is the full story:
"Bumped into this elderly rough sleeper in her seventies who cut a pitiful spectacle during yesterday's homeless outreach. She was slowly pushing a trolley down a slightly-sloppy walk-way and we went to help her.
She survives by collecting smashed tin cans and resell them to the wholesalers for a small allowance fortnightly.
We have to help her stand up so that she can changed her pampers at the nearby tiolet all the while holding her hands as she ambled slowly along.
She suffers from a huge corn underneath the left foot and our kind-hearted young volunteer helps to apply some ointment taken from the polyclinic earlier by the elderly herself on the painful lump. It is apparent that the corn is causing her much discomfort as she has to take a Panadol later to ease the pain.
As she hasn't eaten yet at the late hour of 11pm, we bought her favourite roasted pork meal and she quickly tucked in hungrily.
After distributing our stuff to other rough sleepers nearby, we came back to her and decided to pass her some cash so she can get herself some nice proper meals for the week. We also help her bank in the money at the nearby ATM so that it is safely-kept.
We will be contributing $50 to her weekly for a year of commitment so that at least she can have $200 monthly to count on for meals and other necessities.
If you have a empty room and wish to house her out of compassionate ground, please let us know – we can pay some rent for her to offset the cost.
She is probably our saddest rough sleeper case so far and her extreme ill-health makes her a vulnerable target not only to the elements but also COVID-19 viruses.
Do something good for Singapore.
– Gilbert Goh"
Images source: Gilbert Goh Facebook