Officers from the Immigrations and Checkpoints Authority (ICA) on Thursday (7 Apr) did a check on a Malaysian registered lorry transporting cement into Singapore via Tuas Checkpoint and found two live pythons in a Styrofoam box, thus effectively preventing the smuggling activity from becoming a success.
The pythons were identified as Reticulated Pythons and was inside a Styrofoam box hidden in the cabin area of the lorry which the Malaysian driver had initially claimed that it contained food but upon further questioning admitted to having live snakes inside the box.
He also did not have proper documentations and permits for live imports and was subsequently referred to NParks for their investigations.
Both snakes were around 4.8 metres long and 3.8 metres long respectively.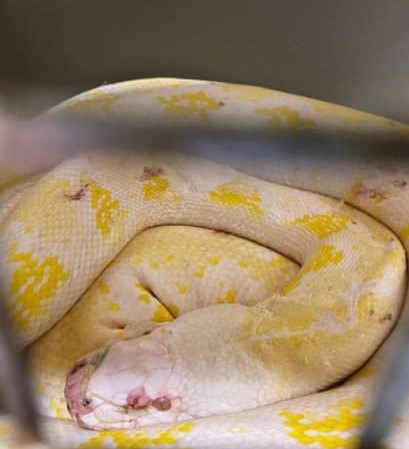 Statement by ICA & Nparks
In a joint statement released by the two agencies, they mentioned that trading wildlife illegally can threaten the biodiversity and ecosystems around the world and might also cause risks to health.
The conditions in which the animals are smuggled in may also cause them to suffer unnecessarily and it may even result in their death.
Due to these complications, NParks regulates the import of animals in Singapore to prevent new diseases coming into the country and also to guard the health of these animals and their welfare and to stop illegal wildlife trade.
Penalties
There is an endangered species (import and export) act which states that those attempting to import a scheduled species without a valid permit is an offence and the offender is liable to a maximum fine of $50,000 and/or imprisonment of up to two years.
The public can refer to NParks website should they have questions about bringing animals back to Singapore and the public can also do their part to help tackle the trade by not buying wildlife to keep as pets.
Anyone with information on such activities can also call NParks hotline at 1800 476 1600 and all information provided will be kept confidential.
Image source: ICA & NParks