In the realm of consumerism, price consciousness plays a pivotal role in decision-making. As consumers, we often find ourselves on the lookout for the best deals, seeking ways to stretch our hard-earned dollars without compromising on quality. A recent comparison between ABC Value Shop and FairPrice Supermarket brings to light a significant price difference that has left many consumers astounded. Both outlets offer the same product, with identical expiry dates and country of origin. Yet, the discrepancy in pricing between the two has sparked considerable debate and raised questions about the fairness of pricing strategies in the retail landscape.
The netizen wrote:
ABC value shop and FairPrice supermarket price difference. Same product, expiry and country of origin.
FairPrice selling $8.90 and value shop at $1.
Disgusting FairPrice selling price. Moving forward before buying anything just walk around and compare first.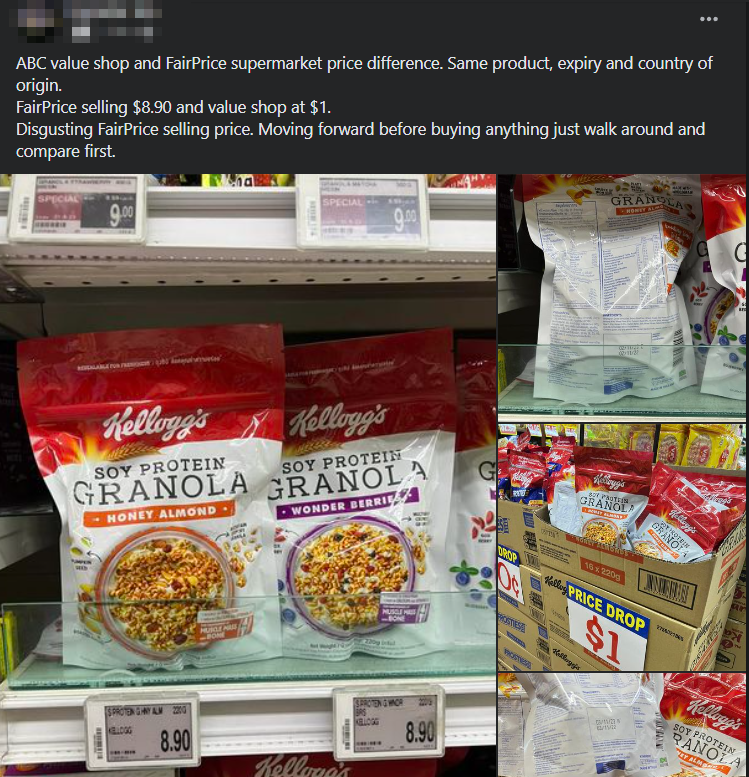 Netizens who saw the post expressed their experiences:
Actually supermarket they do not set the price, those price or promo r set by e merchandise/supplier. How i knw coz my mum work ther for more than 20 over yrs.
Different country of origin with the same brand, that's why ABC selling cheaper. Like Nutella, in ABC there's no Halal logo. Most of their chocolate too some made in Philippines and India, which is not halal. Non halal food a bit cheaper because don't have to apply for Halal license.
I was in disbelief myself as well last night when I saw exactly these exact packets of granolas selling at $1 at ABC near my hse. With no hesitation I grabbed 10 packets at 1 go lol but they hid them at the bottom shelves though.
It's just market behaviour. Fairprice never promise they are cheapest in Singapore. Their goal is only to make sure no one hoards goods and mark up the price astronomically. That's why fairprice is also not the most expensive. It merely exists to provide a choice.
I think the "Price Drop" logo is cleared and explanatory ? ABC reduced to clear earlier cos maybe their crowd not that much? Whilst NtUC is confident to sell it all off. Personally see nothing wrong with NTUC except that selling price more exp lor