I hope i do talk about goodness of people much more than the shitty ones .
I took a cab from ION and if you live in Singapore, you know Takashimaya and CTE is A NIGHTMARE of a road.
Mr Lim Kek Wah, taxi driver of SHF 754 G, told me this road is a nightmare during this hour and he will stop the meter, until the road clears.
These were his exact words "Uncle comes from poor family, money is not easy to make, so don't worry, if i can help , i help. "
I choked up. People that knows me, knows how i view $. It pays the bills but i would not sell my soul to earn it.
I asked him questions of his upbringing, he's 70 years old, had to drop off school cos his dad passed away at 10years old. Looked after the family, as it was his duty, no time for anxiety , worry or try to follow his passion . He had to do the right thing for his mother.
Worked as a coolio carrying rice on his back at clarke quay -100 kg per bag for 20 cents.
When i arrived, paid him extra not because i feel sorry for him, but that kindness and lessons he shared with me . It is invaluable and he made up for my shitty morning.
And that my friend is Human Connection.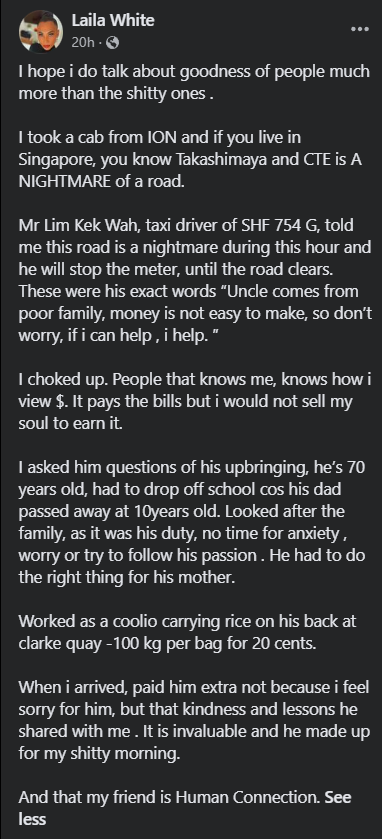 Here are what netizens think:
Thanks for sharing this Laila.. a reminder for us to be thankful and grateful for the blessings in our lives and to remember to be generous and kind to all around us just like this nice Uncle.
Kindness god comes in all forms it's within that makes old Uncle angel like God bless