Lazada sell damaged device in LazMall official Apple store, and refuse to return the device despite Apple proof that the device is damaged!
I bought an AirPods Max on September 27, 2021 from the LazMall official Apple store in Lazada, after I used it for less than 2 weeks, it stopped working completely, then I sent it to the Apple Genius Bar for repair, about 2 weeks later, I got my device again, however, it broke within a week, this was repeated 4 times in total, until Apple put me in touch with phone support, They think the device is eligible for a refund, but since I bought it at Lazada, I need to contact Lazada.
Because the return period has expired, I contacted customer service, they helped me start the return process, I asked them several times if I need to provide other materials such as Apple's repair record, they either didn't reply, or they said no need, only "Item is physically damaged" is written in the reason for return, which I don't think is very appropriate, but I can't change it.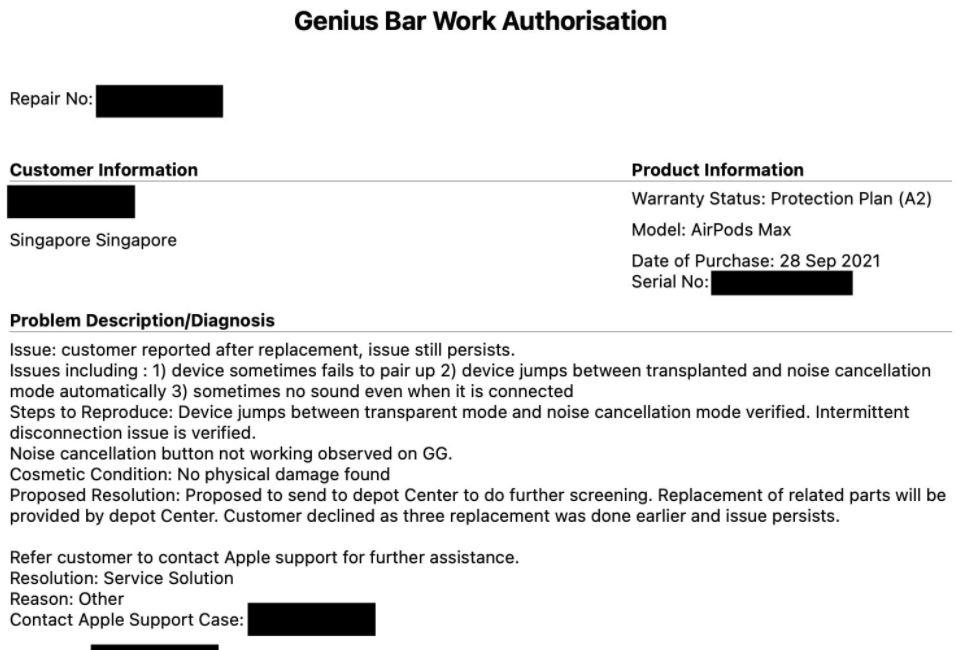 On January 3, 2022, they received my returned device and said they would reply within 3 business days, however, it took 8 days, and they didn't get in touch with me or even ask me The problem of the device, directly said "item not damaged as claimed by buyer" and refused my refund. In fact, I have Apple's official test report and repair record, which can prove that this device is damaged.
I contacted customer service more than 10 times after that, but they still didn't give me a chance to submit any proof or even description about the problem at all, just said that it had been escalation, made me wait for a email from the "relevant team", and refused to tell me when I would get a reply, I have not received any reply from the "relevant team" to this day.
Another thing worries me is I'm not in Singapore now and if they send the device back to the original address, no one can pick it up. Although the customer service said that the device will not be sent back for the time being, for the sake of insurance, I still provided the address of a friend, and they said no worry, as a result, I received a photo from the courier this morning, the device was placed at my door.
This is my worst shopping experience, I won't believe Lazada anymore because the products they send you are just what they think is "normal", even in the official Apple store, this is total fraud. They believe in themselves so much that they don't accept official test reports from Apple. I just want to get my money back and uninstall it right away