A man was allegedly served tiny slices of beef in his noodles that he bought from an Orchard eatery. for $8.
What happened?
The netizen shared on the Complaint Singapore Facebook page that he visited an eatery along Orchard on 23 September and bought a bowl of beef noodles.
To his dismay, when he received his food, he realised that there were only a few small pieces of beef that were not even enough to fill his spoon.
He added in the comments that he "dig and dig and dig to check for meat underneath but the more I gid, the more frustrated I become."
He had initially thought that the cook had forgotten to put the meat inside the dish, so he proceeded to ask the staff about it.
However, the owner of the eatery then brushed him off and told him that this was how their dish was served; the owner also even allegedly told his workers to ignore the customer's complaints.
Here is what he said
Went to order this beef noodle at Orchard Plaza. Got served this tiny pieces of beef. I was shocked so ask the boss is it they forget to put the beef in. To my horror, he say that's the way it is served and asked his other employees don't care about me.
I now understand what is "Pictures are for illustration only".
Netizens' comments
Hawker food is getting more expensive and taste bad these days. Poor quality with little ingredients.
$8 including midnight charge lah …
So we all know WHICH PLACE TO SKIP TO AVOID BEING CHEATED !!!!
This type of shop I confirm boycott. Not because of money, but because it shows the heart is not there. If the heart not there, it affects everything from ingredients quality to food preparation standards.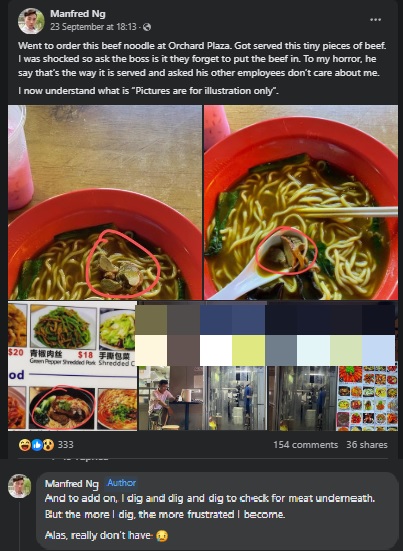 Images source: Facebook