For the past few days (no physical wake around etc.), there non-stop 24/7 E-chanting around my estate! in Sengkang.
Called Singapore Police Force for 2 times, but the officers on the line just take it lightly and say they'll report to HDB as they only attend to Emergency cases.
Rude note left behind by a resident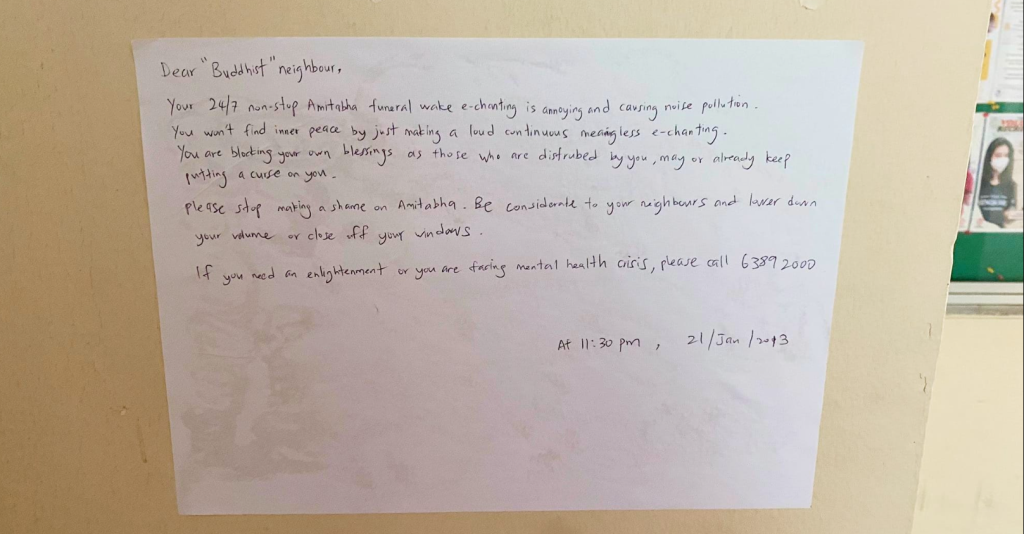 The note says:
Dear "Buddhist" neighbour,
Your 24/7 non-stop Amithbha funeral wake e-chanting is annoying and causing noise pollution.
You won't find inner peace by just making a loud continuous meaningless e-chanting.
You are blocking your own blessings as those who are disturbed by you, may or already keep putting a curse on you.
Please stop making shame on Amitabha. Be considerate to your neighbours and lower your volume or close off your windows.
If you need enlightenment or you are facing a mental health crisis, please call 63892000
At 11.30 PM, 21 Jan 2023
Since when did noise disturbance in the neighborhood doesn't warrant a proper investigation? Even my fellow neighbors pasted this paper on the wall of the lift lobby!
Imagine hearing the chanting 24/7 when you reach home, about to sleep, and even when you wake up and go to work! Sengkang GRC Please do something !