A Facebook user going by the alias of Chernie Koh shared on Complaint Singapore's Facebook page a post accompanied by a video of an incident which happened right outside her HDB unit.
The incident was caught by her door viewer, which captured the process of a young looking man with brown hair, dressed in black and had earpods in his ears loitering outside her unit at around 10.14pm last night (2 Feb).
According to Koh, who is staying at a HDB unit in Bukit Panjang's Jelebu road, the young man stole her husband's work shoe.
In her post, she asked for anyone who happened to know the young man to urge him to find a way to return it and also to share with him that they are aware of the alleged theft.
Koh also said that she had made a report to the Police about the alleged heft.
Here is her post
"This happened at Bukit Panjang Jelebu Road last night at 10:14pm, this i- stole my husband's work shoe and it happened that my door viewer capture it.
In case if you are the shoe stealer, you better find ways to return it. If you happened to be friend with the shoe stealer, please share with him.
Anyway police report has been filed.
SHAME on you!"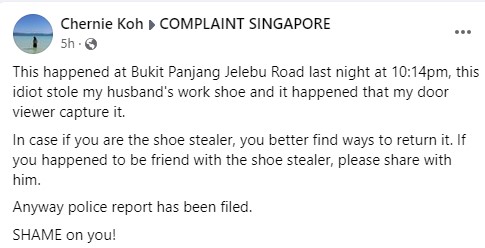 Full video loading
Image and Video source: Chernie Koh/Facebook