A Singaporean who went to Johor to have a message with his friend posted a video on TikTok consisting of text and photos, mentioning that when the two of them to a massage parlour in Johor, Taman Pelangi, they said that the masseuse touched their lower bodies.
The text mentioned that when two men went to a massage parlor in Johor Bahru Rainbow Garden (Taman Pelangi), they pointed out that the masseuse touched their private parts, even though they were stopped, they touched them twice again.
The masseuse also asked if one of them was gay and why he was not sexually aroused, and even pulled open the other's underwear to look at his lower body.
The man said that the masseuse continued to ask inappropriate questions, which made him very uncomfortable, and then terminated the massage service early, and broke down and cried afterwards.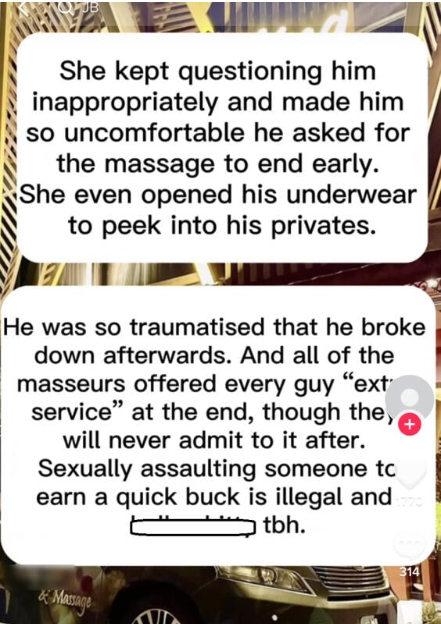 A spokesman of the massage parlour told Shin Min Daily News that they have no way of confirming the other party's allegations. After all, the massage booths cannot be equipped with electronic cameras, and they can only listen to the opinions of both parties.
However, he emphasized that the massage parlor has been in business for more than 10 years and does not allow masseurs to provide "special services", and will warn the other party if they know that someone provides such services.
In addition, the spokesperson also mentioned that the masseuse involved pointed out that the other party was dressed like a girl, so it was impossible to ask him if he wanted "special service".