A netizen, Glenn Lau, shared a photo on Facebook showing a man seated on a priority seat inside an MRT cabin.
He was sitting on the priority seat in front of a woman who was standing and carrying a baby, and appears to be pretending to not notice the woman while playing with his phone.
The netizen who shared the photo of the man, said that the man was asked to give up his seat to the mother and child, but he allegedly refused.
The man was also sitting right in front of a sign behind him that urges commuters to give up their seats to those who need it.
One of the figures on the sign even shows a figure of a mother with a child on the lap.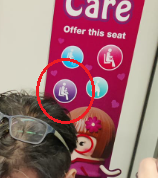 The Facebook user captioned his post:
"Asked this guy to give up his seat to a mum carrying a kid. He refused and continued to use his phone."
Netizens' comments
All around him are heartless too. Not just him..
Looking at the comments dunno wan laugh or what, nowadays people all no brain one hahah this is Priority seat. If the guy dun wish to give up his seat, he shall not even sit at priority seat in the 1st place
I think those are seated beside him also don't have common sense to give up a seat ?
Source: Glenn Lau on Facebook