A photo of a poster which was said to have been put up at a bus stop in Canberra has been circulating on social media and mobile messaging platforms.
Man looking for girl previously working at Geylang
According to the contents of the poster, a Chinese man is looking for a girl who used to work at Singapore's red light district, at Geylang Lorong 22.
He also mentioned that the girl has been missing since 2020 and had probably contracted the HIV virus.
A reward of $2,000 was also put up for information on the missing girl.
Poster's contents
The contents in the poster reads:
"I am a 32 year old Chinese guy looking for a 36 years old girl previously working in Geylang Lorong 22 area.
This girl has been missing since 2020 and probably contracted with HIV virus.
Anyone found this missing girl, please kindly contact me at ……..
Reward $2,000.
Thank You."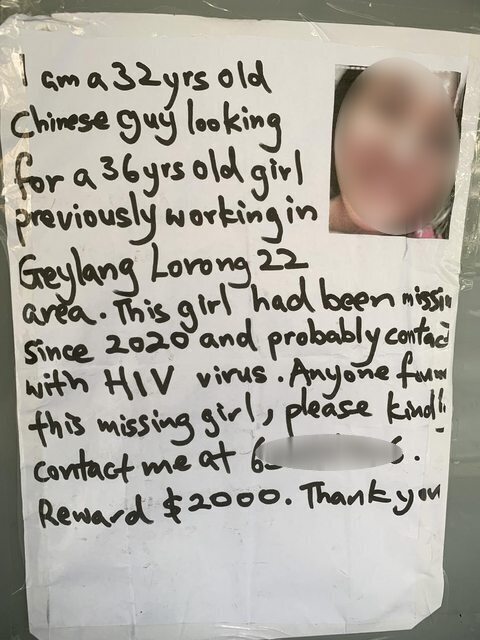 Here are what netizens think
Guy got hiv then go unprotected with girl? GG… The girls subsequent clients all hong gan Liao..
Don't know the sequence, but at least one of them might have hiv sio
Maybe wana sue the girl for giving him hiv. Anyway hope he goes for treatment asap instead of spending time kpkb about a missing girl.
Her pic no make up.. very hard to find.
This is why you shdnt sleep around.
could be sabo…
how much per shot?
Ummm when is 36 year old a girl? Ish lao aunty!
these days w/ ppl wearing masks & sometimes w/ a cap/hoodie, gonna be hard to find