Facebook user Peter Lau shared how he visited a chicken rice stall at Bedok South Road and was charged $5.50 for a plate of chicken rice despite the price being listed as $4.50.
Here is what he said
*stall name withheld* at Bedok South Road is doing it again.
They advertise their chicken rice at $4.50. However, upon placing order, they'll ask you if you want $5.50 or $6.50.
When I asked them why it's not $4.50, their reply is bcos kampung chicken is expensive. That happened the day before.
Today I watched from far and saw another customer ran into the same issue. And the customer did the same thing as me – paid the higher price since already queued so long and avoid the trouble of going to another store to queue.
I believe many others acted the same. I urge *name withheld* Management to look into the issue and update the advertised price to avoid confusion.
This is the second time that I was caught by the same store and same stall keepers.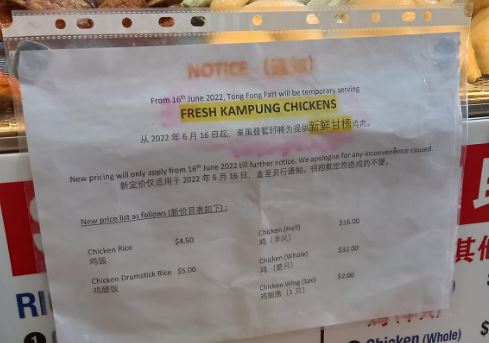 Netizens' comments
few months ago before shortage of chicken this stall is $2.50, 3.50, 4.50,
half chicken $9, now $15, now all price increased. But their chicken rice very nice. If increase more than what they advertise is unacceptable should just walk away.
Pay more nevermind, they still use side of chopper to flatten the meat, slap a slice and it expands, then chop into pieces for you. This is a common practice in Sg Chicken Rice sellers. In Msia, they don't flatten meat this way, they chop full piece and give you.