Went to order this beef noodle at Orchard Plaza. Got served this tiny pieces of beef. I was shocked so ask the boss is it they forget to put the beef in. To my horror, he say that's the way it is served and asked his other employees don't care about me.
I now understand what is "Pictures are for illustration only".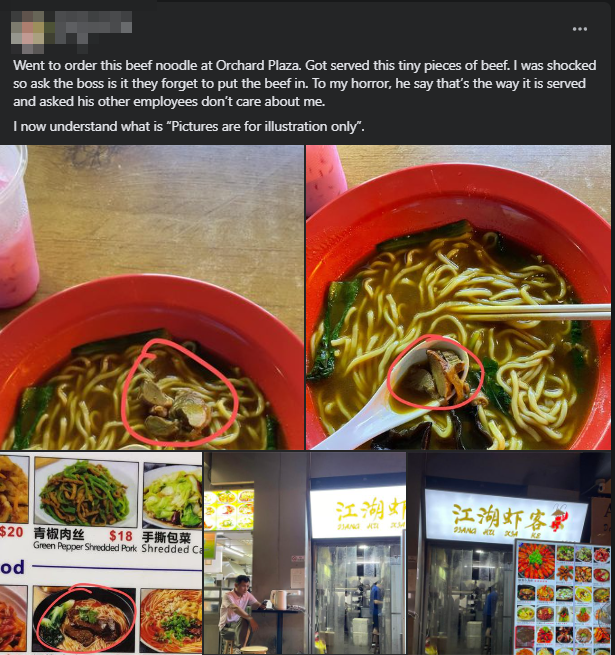 Here are what netizens think:
I seldom buy food from foreigners stall especially from China, Vietnam and India. Most of them did not attend any hygiene and healthy course.
The shop name is "bully the world customer" in Cantonese
Can't blame you for Not knowing
BOYCOTT. It's a daylight robbery. V cunning ways of doing business.
You should be happy already, I had bought mee goreng from Adam food center last week. I was shocked that for $5, you were given 1 fried egg, mee, veg and onion cut into pieces that you hardly can see them. Never buy from this store anymore!
Jiang Hu Xia Ke, no wonder. They already said Xia Ke (blind customer). Definitely not for you to patronize.
Is ok, better for your health but just abit wasted of your money. Remember, some shops or businesses are meant to be closed down the moment they start operating. They often thought they are profiting, just like example from your bowl of tiny piece of beef noodle. Then in end they also don't know how come no people eating their food.
I avoid such China looking stalls. Their foods are usually so so only. Not even talking about the portion like you have experienced. Crazy life in SG. We eat worse than our pet animals..
Did you mention which no. you belong to? They serve mainly their sort, just look at the name of the stall. Luckily you didn't argue and create a problem, else I'm not such where you would land on instead of your safe home.