I hope that the admin approves this post here despite it not being a post about complains of any sort.
Helpful man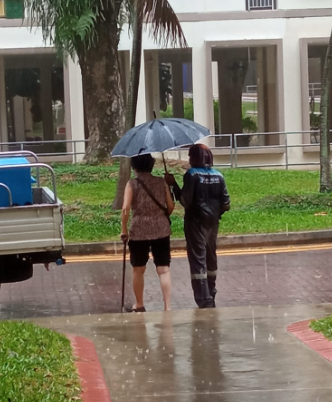 I believe that the raining season is here again & sometimes the rain keep pouring throughout the day just like it did today.
I was waiting for my ride at the void deck when I saw this scene. A foreign worker who assisted an elderly lady to cross from one block to another during a heavy downpour.
The worker in the picture was having his lunch break at the void deck when he saw the elderly lady standing at the edge of the void deck. He then asked the elderly lady if she wanted to get to the other block before taking his umbrella and walking the elderly lady over to the next block.
I think it is very courteous and thoughtful of the worker to offer his help to the elderly lady.
Let the picture speak for itself.
Here are what netizens think:
God bless him as well as you bro for sharing a good side of ppl who need to be appreciated
Thank you sir for the kindness, contribute a simple thoughts do make a lot of different, to the lady who appears to be having some difficulty despite having to wait to get home sooner'. I wished you well and you really make our day!
Most of them are good, it is just one of the rotten apples that are in the basket that destroys their image.