The following is a story send in by a netizen via email, along the story is a photo of the man who allegedly scammed his friends and the man is in the shower butt naked.
Due to the type of content, we are unable to unload it.
Here is the story:
Hi I am Nina, I hope that you guys will help publish this story to seek justice for a friend of mine. As a bystander, I feel that it is morally unrighteous of how a 27 grow up male can SCAM his close friend's money on the false pretence it is for his unborn child, however it is not.
The 27 Year old Male is a guy called K***** e. His Instagram name is
A couple of months ago, K borrowed 20K from a close friend of his. (He was under alot of pressure as he had to clear his gambling debts and he had a baby on the way) 
Out of good will, his friend lent him the money to pay his debts only to find out awhile later that no debts were cleared.
When his friend then approached K and asked him if it was possible to return the money, K claimed that he had no money as he has not enough to pay for his soon-to-be-born baby's milk powder and diapers.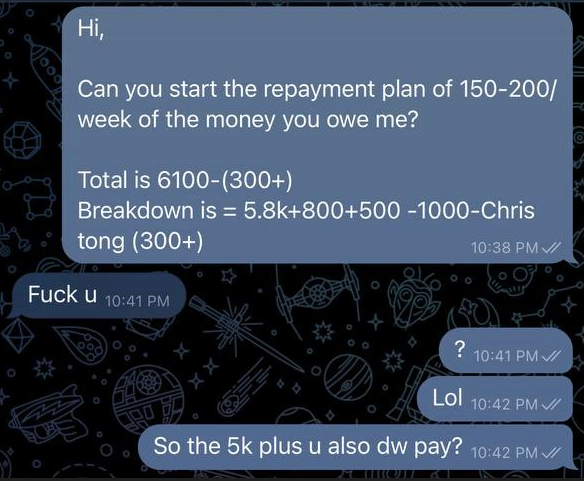 He cut all ties with the baby and the mother of his child on the second day that the baby was born due to not being able to pay for the bills (he felt stressed out as the mother of the child wanted him to return her father for the hospital bills her father was willing to help to pay first and he did not have the ability to pay, so he chose to cut all ties by using excuses such as the baby is not his, and requesting for a DNA test. Ultimately, the girl's parents decided that the 6K her father had forked out did not require repayment, as long as he stays gone from their lives forever)
However despite cutting all ties, he kept his friend in the dark about how he and mother of the child plus child had no more links and continued to pretend that he could not return the money as he had to pay the bills for the kid.
Truth is: The mother of the child has been FULLY BREAST FEEDING THE BABY ever since birth and the diapers were ALL BOUGHT BY HER FATHER.
When K's close friend found out from a mutual friend that the diapers and milk powder story was a scam, he confronted K again and asked where the money went. 
K then claimed he had gambled all the money away. 
Subsequently, after awhile when the close friend asked for repayment of the money he lent, K immediately acted like he didn't owe a single cent and how they were quits because he helped his close friend pay for a poker game which was only $300+. 
How is $300 = 20K?
THIS IS DEFINITELY AN INJUSTICE AND AN OUTRIGHT SCAM.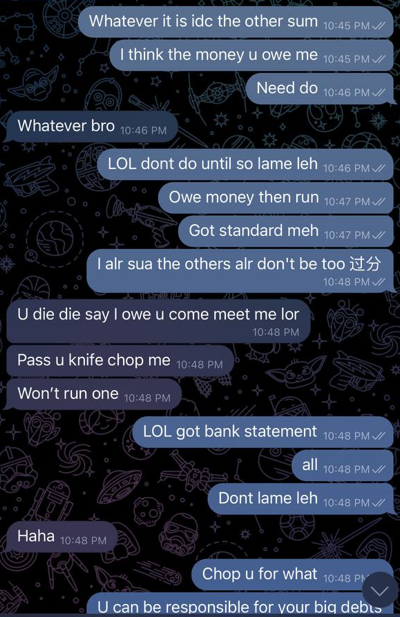 It is alright if you have no money for now, as long as you make the effort to slowly pay back the money or something. But to outright scold someone when asked for the money back after lying to the person multiple times to where the money went and using a baby as an excuse when all the baby's expenses are paid for by the girl's family? Isn't that disgusting?
He even asked his friend to CHOP him as he does not want to pay the money back. Screenshots are all attached.