Facebook user Hrmn Wong shared how he booked a 3 days 2 nights staycation at the Marina Bay Sands Hotel for his girlfriend but they broke up and he is now looking to sell the staycation for a much lower price.
He said that he decorated the room with roses, champagne, chocolates, balloons and "I love you" signs only for their relationship to end.
He said that he was devastated and that his dreams are broken, and that he has no one to go on the staycation with except for "myself and myself and only myself."
He is offering to sell his staycation for only $750, and a quick search online shows that the room costs at least $699 per night, meaning the staycation is worth at least $1.4k.
Here is what he said
Hi guys , it's me again ….as you guys know I've been away from Singapore for almost 1 year and before I came back to Singapore ,
I had a wonderful and romantic plan in mind for my then GF (now no more already become ex gf Liao ) to be able to have a romantic and passionate staycation like all other couple's have…decorating the bed and room with roses , champagne, chocolate , balloons bought from Bugis party shop, I love you sign .
But it all came to a naught and we broken up ….. very devastating , my dreams are broken again ….. I have no one to go on this staycation with except for myself and myself and only myself .
You couldn't expect me to decorate some balloons and instead of having the "I love you " change to " love yourself before you love others " correct anot .
Very (sad) but on a positive note , im thinking I should just let go this room to a happy and loving couple … I know it's abit too fast to suddenly tell your gf bf husband wife suddenly you have staycation but take this chance to surprise them and if you still have no idea ,
I've already upload some decoration ideas for you and just nice Halloween is around the corner just ask your gf or wife not to have any makeup on and she will totally suit the theme for Halloween and at the same time surprise her this room and surprise herself when she look at the mirror .
it's a 3 days 2 nights stay at MBS HOTEL PREMIER ROOM and you might be able to do a free upgrade too ( no promise but will try my best ok ) dated 18,19,20 October .
And for those of you guys no gf no bf no husband no wife . No worries …. You can dabao your 小三,fling , Fwb, KTV girls aka your lao po lao gong , Siamdui girls aka your teerak aka the girl you hang 5000sgd one night, club girls, bar host , boys club host to let them enjoy this wonderful hotel with you .
I will keep it a secret don't worry . So how much will it cost ? 3 days 2 nights just a fee of $750…. Y'all go see the price for each day lor I posted on the last photo .
So I never disappoint you all one ok … don't come tell me I just want 1 day can anot ? , can change date anot .. no cannot !!!!
Day fix at 18,19,20 October ok . $750 only la . Y'all cannot find this price one la . Y'all want faster pm me la ok . Decoration ideas , whatever idea I already post for you all Liao la .
You want then Pm me . Don't GONG WU GONG BO ASK ASK ASK FOR FUN LA PLS TOLONG LA.
UPDATED : ROOM SOLD TO A WONDERFUL FAMILY FROM THAILAND ENJOY YOUR STAY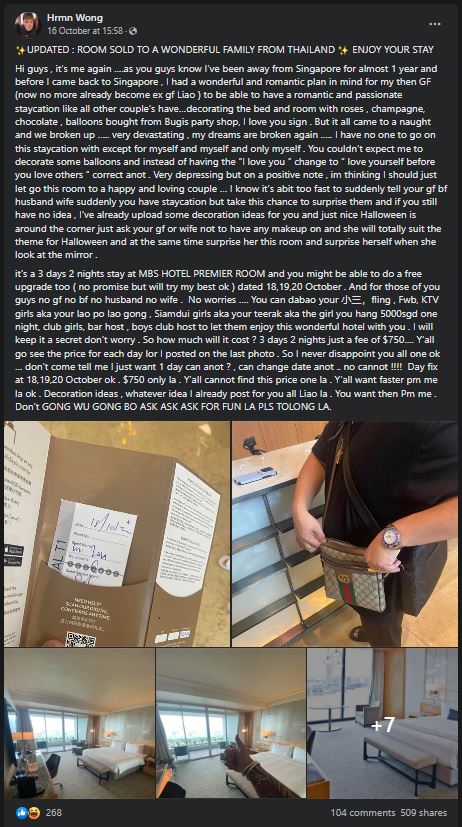 Source: Hrmn Wong on Facebook