A Facebook user, Brian Tan Tze Mian, shared online about how he sent his Panasonic Microwave Oven for repairs to Panasonic.
Here is what he said
First time posting and want to rant on the inefficient repair job by Panasonic Singapore (Job No. PSP-ASC-2205-000453)
Sent in an almost brand new Panasonic Microwave Oven NN-CD565BYPQ on 17 May 2022 (Bought $369 from COURTS on 29 Dec 2021).
Door seal seems to have melted (first time seeing this kind of defect).
Was told it should have taken about a week or two to be repaired. But 2nd, service center starts to give me excuses of waiting for parts. I wonder how many parts are needed to just repair or even replace a door.
Today, after a month long wait, I was given an excuse that the "China market just opened and spare parts have not arrived and will arrived next week".
This is by far the worse ever experience I have with Panasonic.
Thank goodness I still can use my trusty 6yrs old Philips HD9240 Airfryer Xl to heat up food when needed.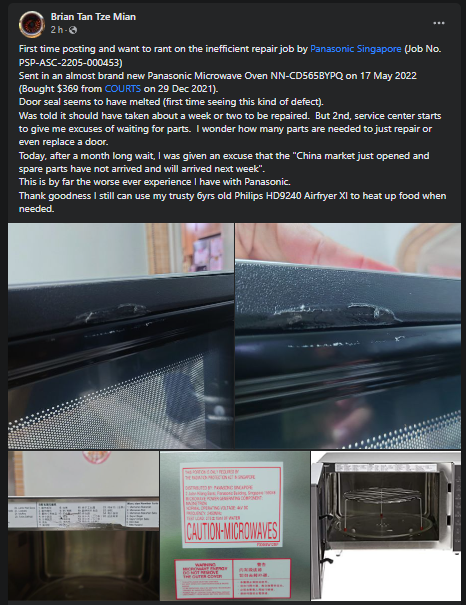 Source: Brian Tan Tze Mian on Facebook