To potential ASUS users and current users I am writing this to tell you all on their after sales service and what to expect
Background story
Some background, I bought a ROG 6D Ultimate on 1 December 2022 with a retail price at about SGD 1,900. Approximately 1 month into using the phone it ran into problems mainly :
Faulty Charging port
Distorted Speakers
Bottom screen touch display no responsive
I decided to send the phone for servicing at Trivex centre on 23 January 2023. I was told by the customer service officer that I would be receiving back the phone after the festive season provided there are spare parts available to fix my phone. If not it would most likely be before the end of February and they will update me on the progress of the repair.
Fast forward to 26 January, I decided to Whatsapp their customer hotline just to get a quick update and the response I got was that parts needed to be ordered to repair my phone, a follow up message on 3 February indicated that the parts would arrive on 10 February. On 17 February, I messaged them again to get an update on the repair, I was told that the parts have arrived and repair is scheduled.
Fast Forward to 25 February, still no update on ASUS. I decided to email ASUS to ask them what is the status of my repair as well as why is it taking so long to repair the phone if the parts have arrived. I received a reply from a customer service officer called Dinesh on the same day with a standard reply template (See attached photo) with the same customer service answer saying they sincerely apologize for the inconvenience and have escalated my case to the service centre.
On 27 February, I received a call from the service centre saying they have looked into my case and have tasked an engineer to repair my phone and it will be available within the week as. The next day, I received a message saying that there is a delay in my phone repair process and additional parts are needed for diagnosis. This shocked me completely, to my understanding the root of the problem was discovered and parts were ordered already to replace it and now suddenly more parts are needed? It smelled fishy to me as I felt they just wanted to buy more time. So I emailed ASUS again on 2 March seeking clarification, this time giving them a deadline on when they can give me a reply on when my device would be fixed.
The next day, on 3 March, I received a reply from them, again it was Dinesh the standard reply, the exact same reply on 25 February, word for word with an exception a few lines less than the first email. I realised then, that all my feedback and enquiries have fallen to deaf ears and it is probably a random person claiming to be "Dinesh" replying enquiries with a standard template.
As usual I received a call from the service centre, saying that my phone is going through the final QC check before it can be delivered to me, and the details on the delivery address would be asked from me the following week.
Waited two months to get phone back after all the standard template replies, received phone with terrible condition
Finally after nearly 2 months of waiting, they sent my phone back, but I guess not only is their customer service bad, but also their QC. The phone came back with the back cover not properly sealed/glued. They didn't bother to check if the phone was acceptable before returning and just wanted to give the phone back.
When I went back to the service centre to get the back covered fixed. Their intial response was there is a gap before as the phone comes with a vent at the back, however when I purchased the phone there is no gap. The engineer then say there is a dent(not visible by eye) by the side not allowing the back cover to close completely and dents and scratches are not covered by the warranty. So in order to close the gap caused by the repair, I have to pay for a new back cover without any dents.
I have attached photos of their standard email reply together with my Whatsapp Conversation with them as well the back cover not being properly fixed so you can show the viewers. I hope my experience helps potential ASUS products user to think twice before buying their product or existing users to really take care of their ASUS items as it will take an eternity for it to get fixed as their after sales service is one of the WORST I have ever encountered and their repair services are sub-standard.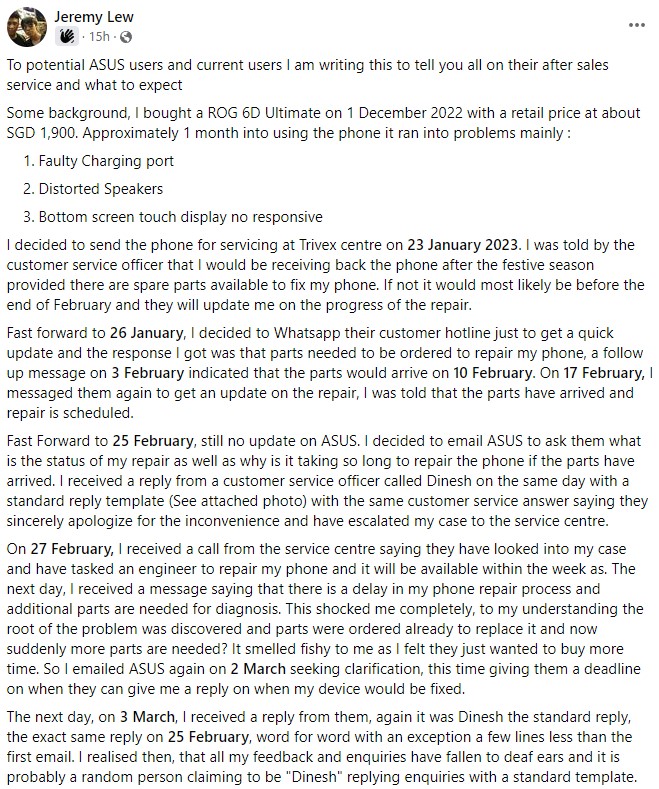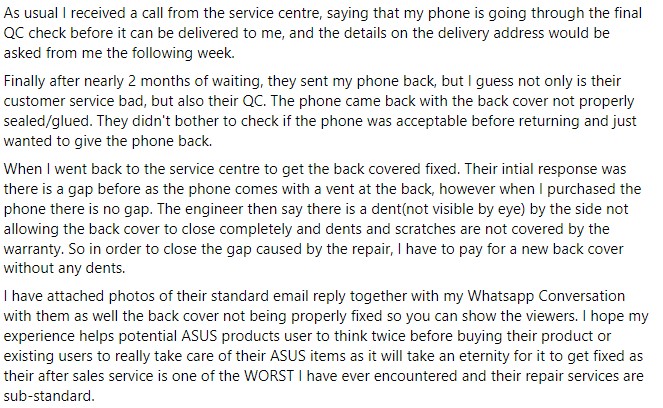 Image source: Jeremy Lew/Facebook