A Facebook user, Phia Boo, shared how he stayed in a hotel at Jalan Besar for 2 nights and got bitten by bed bugs, while also lamenting how the hotel didn't provide him with a refund.
Here is what he said
WARNING
Never! I repeat, Never stay in this hotel.
My friend and I were so petrified and traumatized, after our experience staying in this hotel in SINGAPORE.
First night I couldn't sleep, I kept scratching myself non-stop throughout the night. The next morning, we found two bed bugs – one small and one large (squished with blood). We complaint and they changed our room and told us they already got the pest control to clean the room for us. We stayed the second night and woke up to find another one on the bed.
Although the staff were friendly and helpful, and offered us to wash our clothes. But sadly, they didn't offer medical or refund us. We went to the laundry immediately after check out to wash it again with high temperature to ensure the bugs are dead including our bags. We don't want to bring home the bugs. We go through so much hassles and wasted our time and money. I wonder how they get the "SG Clean Certified" from the government. Ridiculous!
Now, we suffered the itches and ugly rashes all over our body. My friend condition is worst. Rashes keep popping out every minute on our skin. This is our first experience after traveling to so many countries and living is so many different hotels or motels.
This hotel is ST Signature in Jalan Besar, Singapore.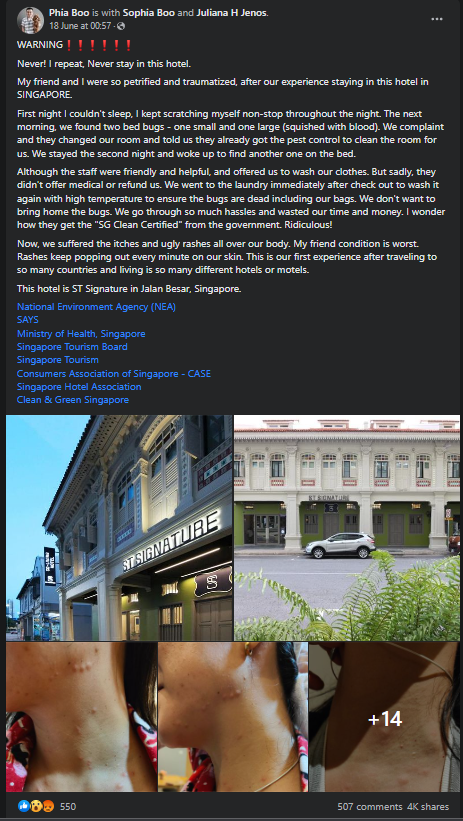 Hotel's response
ST Signature spoke to Mothership and said that they activated their pest control vendor, Autopest Pte Ltd, to the room after the complaint about bed bugs.
They also said that they conduct weekly pest control service as well as maintenance, and they have a set of SOPs when incidents like these happen.
For cases where there are bed bugs, the room will be fumigated and isolated for 6 days before Autopest follows up on their inspection.
ST Signature also added that the rooms that Boo and his friends stayed in were inspected, and Autopest only found adult bed bugs and no eggs.
They described it as an isolated report from the guest, and that no other activity were observed in their premises.
They added that the bed bugs were "very likely" to have been brought it with the guest's luggage.
They also added that they have provided a full refund of $163.53 to Boo and his friend.